Microsoft released the cumulative update KB4482887 for Windows 10 version 1809 yesterday. The update brings the build of that particular version of Windows 10 to 17763.348.
Microsoft appears to test updates for the latest version of Windows 10 in the Release Preview ring before it pushes them out using Windows Update and other means. The practice delays the release of the update; all other supported versions of Windows 10 received updates in mid-February 2019 already.
KB4482887 is available on Windows Update already; devices configured to download and install updates automatically will pick up the update eventually. You may run a manual check for updates to speed up the process, or download the new cumulative update for Windows 10 from the Microsoft Download Catalog site instead.
Issues in KB4482887
Microsoft lists two issues on the support page.
Users may receive "Error 1309" when installing or uninstalling certain MSI or MSP files. Microsoft asks users to ignore the error.
Internet Explorer 11 authentication issues when two or more people use the same user account for multiple, concurrent login sessions on the same Windows Server machine, including Remote Desktop Protocol (RDP) and Terminal Server logons.
KB4482887 for Windows 10 version 1809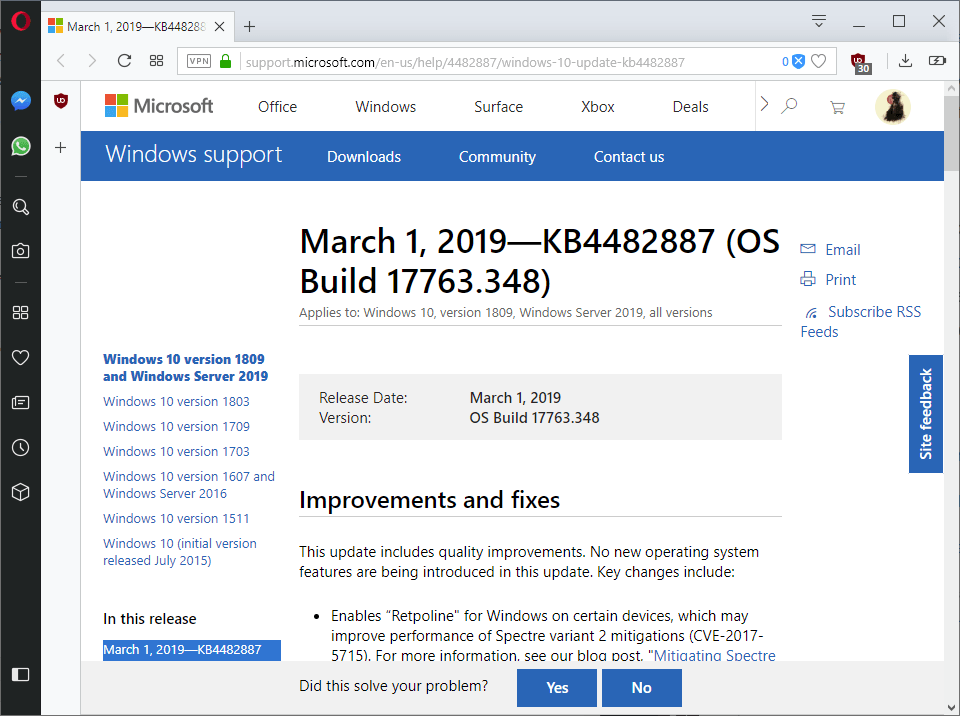 The update is a bug fix update only (Microsoft calls it an update that improves the quality of the operating system). It includes no new features and no security fixes.
Retpoline enabled on certain devices to improve the performance of Spectre variant 2 mitigations. See this detailed tech article on Retpoline.
Fixed an issue with Action Center appearing on the wrong side of the desktop before appearing on the right side.
Fixed an issue when saving PDFs with inked content in Microsoft Edge; some content would not be saved.
Storage class memory (SCM) disks are no longer listed as Unknown in the Server Manager.
Fixed a Remote Desktop access issue to Hyper-V Server 2019.
Fixed republication Branch Cache take up more space than assigned.
Fixed a Remote Desktop connection performance issue when connecting from a web Remote Desktop client to Windows Server 2019.
Addressed an issue that caused the screen to remain black after resuming from Sleep. Also, fixed an issue that caused the main laptop screen to flash when resuming from Sleep.
Fixed an issue that caused overwrites of files on shared folders to fail with Access Denied errors.
Bluetooth radios support peripheral role.
Fixed printing of PDF documents failing during Remote Desktop sessions.
Fixed certain VPN connections causing a black screen and Remote Desktop sessions from responding.
Chile time zone information updated.
Fixed an issue with registering USB cameras with Windows Hello.
Fixed an issue that prevented the Microsoft enhanced Point and Print compatibility driver from installing on Windows 7 clients.
Fixed an issue that caused Teamservice to stop working if Remote Desktop uses hardware encoder for Advanced Video Coding.
Fixed an issue that caused user accounts to get locked when moving applications to a shared platform using App-V.
UE-VAppmonitor reliability improvements.
Fixed an issue that prevented App-V apps to start with error 0xc0000225 in the log. Admins may set a Dword to customize the maximum time for the driver to wait for a volume: HKLM\Software\Microsoft\AppV\MAV\Configuration\MaxAttachWaitTimeInMilliseconds
Fixed a compatibility status evaluation issue.
Fixed an issue that made F1 Help work incorrectly in some apps.
Fixed an issue that caused flickering after using User Profile disk setup on Windows Server 2019 Terminal Server.
Fixed an issue that blocked a user hive from being updated when using Connection Groups.
Improved performance of case-insensitive string comparison functions.
Fixed Mp4 compatibility issues in regards to parsing and playing.
Addresses an issue that occurs with the Internet Explorer proxy setting and the out of box experience (OOBE) setup. The initial logon stops responding after Sysprep.
Fixed an issue with desktop lockscreen and wallpaper background images not updating.
Fixed TabTip.exe touchscreen keyboard not working in some scenarios.
Fixed Miracast banner remaining open after closing a connection.
Fixed an issue with virtual disks going offline.
Additional Japanese era name fixes.
Fixed Internet Explorer not loading certain images that use a "\" character in their relative source path.
Fixed a Jet database issue with Microsoft Access 95 files.
Addresses an issue in Windows Server 2019 that causes input and output timeouts when querying for SMART Data using Get-StorageReliabilityCounter().
Lots of fixes in the update. Did you update your system recently? What's your take on update quality right now?
Ghacks needs you. You can find out how to support us here or support the site directly by becoming a Patreon. Thank you for being a Ghacks reader. The post KB4482887 for Windows 10 version 1809 appeared first on gHacks Technology News.