Google started the roll out of new privacy controls for its customers on May 1, 2019 that allow Google customers to configure auto-delete parameters for Activity data that Google collects.
Customers may enable auto-delete to have data deleted automatically when it reaches a certain age. As is the case with most Google features, the new functionality will roll out in the coming weeks to all Google customers.
Google records activity by default and customers of Google, free or otherwise, may manage some of these on the company's Activity Controls page. First released out in 2014 and updated several times throughout the years, Activity Controls is one of the central management locations that Google provides to its customers when it comes to data collecting and privacy.
The current iteration of the page gives users control over Web & App Activity, Location History, Device Information, Voice & Audio Activity, YouTube Search History, and the YouTube Watch History.
Privacy conscious users may want to turn all of these off, or make sure that Google gets no chance to record them in first place (e.g. by not signing in to an account whenever possible and not using Chrome).
It is easy enough to toggle all activity collection to pause, the only option available. Pausing won't delete content already recorded though, but you can do so on the My Activity page as well.
Google Activity auto-delete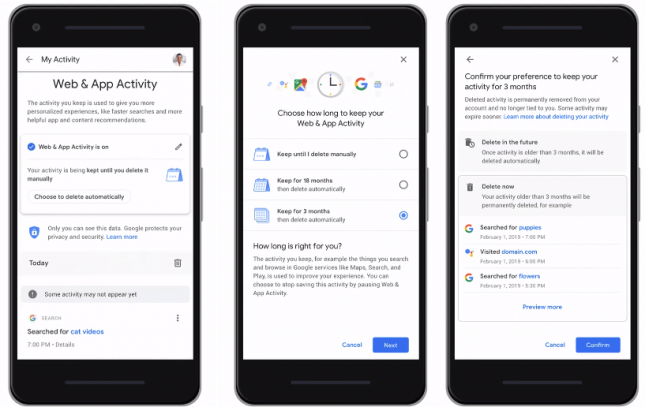 Auto-delete functionality will become available on the Activity Controls page for all Google customers in the coming weeks.
The feature is limited to Location History and Web & App Activity currently with other data collections that are listed on the My Activity page getting the auto-delete control at a later point in time.
A new "Choose to delete automatically" option is listed under Web & App Activity and Location History once the feature has been rolled out to the Google account.
A click on the option displays a configuration menu; use it to select for how long you want the data to be kept. Google limits this currently to three months or 18 months. Select Next to open the summary page and confirm the selection.
Google will delete the information automatically based on that configuration. Whether that means that any instance of the data is deleted from Google servers is unclear as it is nowhere mentioned.
Closing Words
Google stating that customers "should always be able to manage [their] data in a way that works best for [them]" is somewhat of an overstatement considering that Google customers are not in full control of data that Google collects when they use company products.
The auto-delete option may work for Google customers who have not set activity collecting to paused, e.g. because they use the services and features that rely on these.
Now You: Have you configured Activity collecting on Google?