Google Chrome users may soon get additional customization options to change the default functionality and layout of the browser's New Tab Page.
Chrome users who want to modify the New Tab Page currently don't find many options to do so. The best option for many is to download a New Tab Page extension to customize what is displayed on the page.
Google has been working on New Tab Page customization improvements for a while. Recent modifications are now available in Chrome Canary, the cutting edge version of the Chrome browser.
The changes are not fully implemented at this point but they provide an outlook of things to come. The options are hidden behind experimental flags at the time; users who want to follow their development need to enable them in Chrome Canary:
Load chrome://flags/#ntp-customization-menu-v2 in the Chrome address bar and set the flag to Enabled.
Load chrome://flags/#chrome-colors in the Chrome address bar and set the flag to Enabled.
Restart the Chrome browser.
Chrome customization menu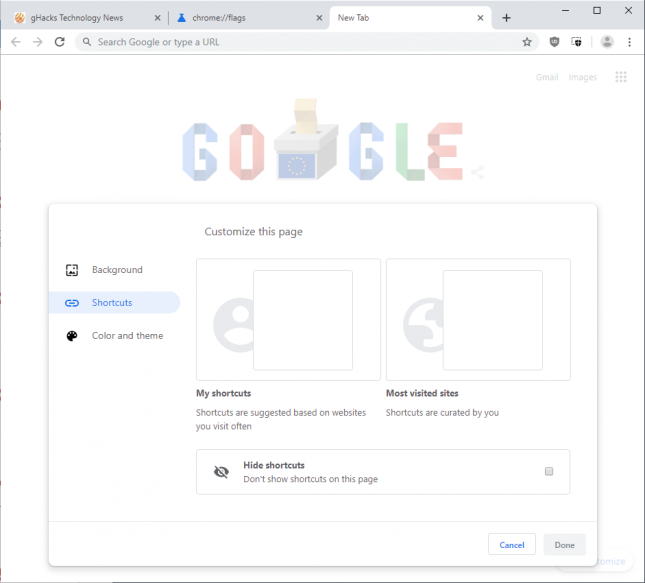 Open the New Tab Page after the restart and activate the customize option on that page to open the redesigned customization menu.
The Shortcuts section is not fully functional yet but it highlights Google's intention clearly. Chrome users get options to select the type of shortcuts that they would like to see on the New Tab Page.
My shortcuts -- The shortcuts are displayed based on the frequency of visits and selected by Chrome.
Most visited sites --Shortcuts are curated by the user.
The wording of both options seems confusing but it is a development version and Google is probably going to address this before release.
The third and final option is to hide any shortcuts on the New Tab Page.
Chrome Colors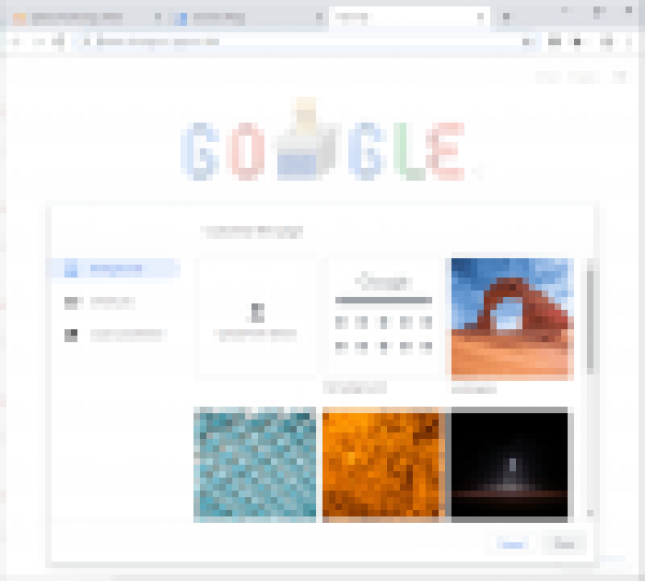 The Color and Theme section of the customize page is not active yet either. The option shows a blank page when you select it currently.
My best guess is that you will be able to change color and theme of the New Tab Page once the change lands in Chrome.
Background is still available to select a custom image for the New Tab Page using a local or Google provided image. An option to set no background image is provided as well.
Closing Words
It is unclear when these changes will land in Chrome Stable. There is still a chance that some or all will be dropped; but that is true for all experiments that Google adds to the browser using the chrome://flags page.
The customization options that Chrome offers currently are inferior to those offered by other browsers such as Mozilla Firefox, Opera, or the Vivaldi browser.
Now You: Which elements do you consider essential on a New Tab Page?