Windows 10 version 1903 will reach end of support next month on December 8, 2020 for all supported editions of the operating system. The version of Windows 10 was released on May 21, 2019 and Microsoft has released three newer versions of Windows 10 since that date.
End of support means that Microsoft won't release security updates anymore for the version of Windows 10. Systems that are not updated may be vulnerable to security issues discovered after support for the version of Windows ends.
Windows administrators have two main options when it comes to the upgrades: Windows 10 version 1909 or Windows 10 version 2004/20H2. The first is a smaller update that should complete in a matter of minutes, the second a full update that will take longer. Downside to installing Windows 10 version 1909 is that it will run out of support in May 2021 if a Home or Pro edition is installed.
Enterprise and Education customers get 30 months of support for the second feature update of a year, while Home customers get only 18 months regardless of time of release.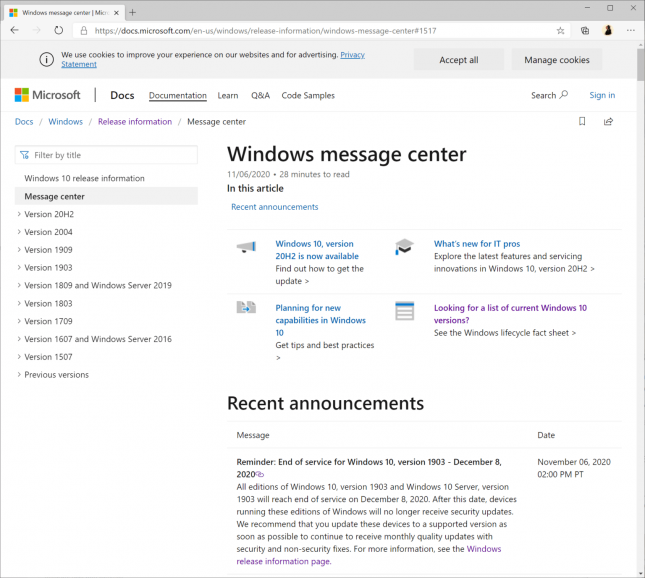 Microsoft will enforce updates of systems that have run out of support or are about to run of support. A reminder was published to the Windows Message Center on November 6, 2020 about the upcoming end of support:
Reminder: End of service for Windows 10, version 1903 - December 8, 2020

All editions of Windows 10, version 1903 and Windows 10 Server, version 1903 will reach end of service on December 8, 2020. After this date, devices running these editions of Windows will no longer receive security updates. We recommend that you update these devices to a supported version as soon as possible to continue to receive monthly quality updates with security and non-security fixes.
The latest Ad Duplex stats have Windows 10 version 1903 listed as the third-most installed version of the operating system. Windows 10 version 2004 is placed first, Windows 10 version 1909 second. About a fifth of all installations are still on Windows 10 version 1903 according to the statistics. The statistics are collected by a third-party and may not be entirely accurate. Microsoft does not release information about the distribution of Windows 10 versions to the public.
Systems will be updated automatically using the built-in update functionality of the operating system if it is enabled and not blocked somehow. According to German site Dr. Windows, systems will be updated to version 1909 and not a newer version. The reason given is that it speeds up the updating process and that the update is less prone for causing issues.
Now you: do you use Windows 10? Which version are you on?