Microsoft released a second update to address printing issues on the company's Windows 10 operating system. The new update has been released for all Windows 10 versions starting with Windows 10 version 1607.
The update fixes the new printing issue that occurred on some devices on which the out-of-band printing fix was installed on.
Reports about bluescreen errors started to appear shortly after Microsoft released the cumulative updates for its operating systems as part of the March 2021 Patch Day. The company released workarounds to address the issue shortly after acknowledging the issue, and an out-of-band patch to address the issue.
The out-of-band patch introduced new printing related issues on some devices. Users reported that printouts with graphics would not print at all or would end prematurely.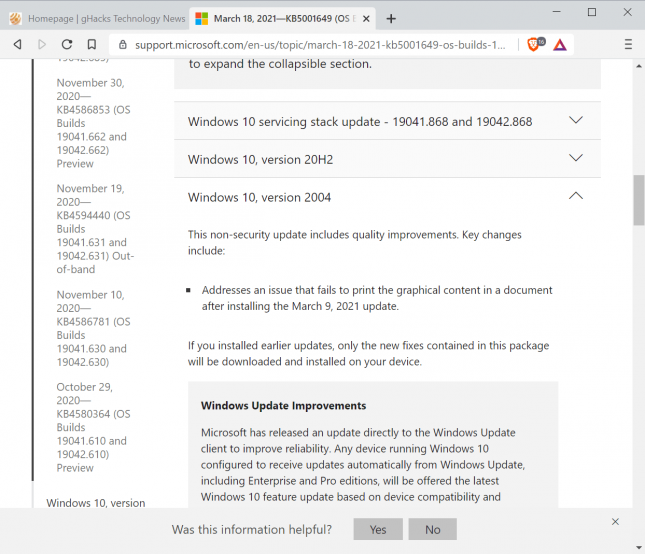 Microsoft provides the following description on all support pages:
Updates an issue that fails to print the graphical content in a document after installing the March 9, 2021 update.
The new update is offered as an optional update via Windows Update and Microsoft Update. It needs to be imported into WSUS manually, and can also be downloaded from the Microsoft Update Catalog website.
To update via Windows Update, select Start > Settings > Update & Security, and click on the "check for updates" button. The new update should be listed under optional updates on the page once the scan for updates completes.
Here is the list of support pages:
If you prefer direct downloads, use the following links to open the download pages on the Microsoft Update Catalog website:
All you need to do is download the update package for the right architecture, e.g. 64-bit version of the operating system, and to run the executable file once the package has been downloaded.
The new patch should fix the printing issues on all affected devices.