Microsoft is working on a new feature that integrates the company's Microsoft Edge web browser better with the company's Windows 10 operating system.
Called share browsing data with other Windows features, it is designed to share data from Edge, such as Favorites or visited sites, with other Windows components. Search is a prime target, and highlighted by Microsoft at the time of writing.
Basically, what this means is that users who run searches using the built-in search feature may get Edge results as well.
The new feature is being rolled out in Edge Canary currently, and it is not even activated yet even on rolled out systems.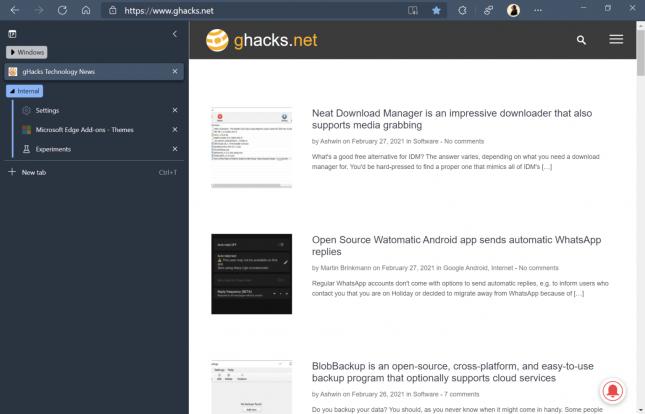 You may check Menu > Settings > Profiles to see if the new "Share browsing data with other Windows features" option is provided. A click or tap on the option returns a description off the feature and a toggle to turn it off or on.
The description reads:
When turned on, Microsoft Edge will connect local browsing data from this profile with the rest of Windows. Turning this feature on will help you find information from your history, favorites, top sites, and recent tabs more easily using features such as the Windows Search box.
It is unclear at this point whether other Windows 10 features such as the Calendar app or Mail, will gain access to the share feature as well. Another thing that is not clear yet is whether it is enabled by default or turned off by default.
The new Microsoft Edge is not integrated as tightly as the classic version at the time of writing; this could change with the new integration feature.
Whether users will find it useful to get Edge results, e.g. visited sites, recent tabs or top sites, returned to them in search, remains to be seen, as it is easy enough to keep Edge open all the time or open the browser and run the searches directly in the browser instead.
Now You: would you use search more if it returned browsing data (from your browser of choice)?