You are here
How to rip audio CDs with Windows Media Player
If you are using Windows Media Player as your default audio and video player on Windows, or do not have a third-party CD ripping program at hand, you may use the program to rip audio CDs to mp3 or Windows audio format.
While it is usually better to use a program like CDex for that, as it offers better options and is more comfortable to use, it may not make much sense to run the program if you only rip music occasionally.
You can start Windows Media Player from the start menu or start screen by entering media player or by loading wmplayer.exe after using the Windows-R shortcut to open a run box on the system.
First thing you need to do is configure the ripping functionality. Click on Organize > Options to display all settings the program makes available.
Switch to the rip music tab here which lists the options related to that activity.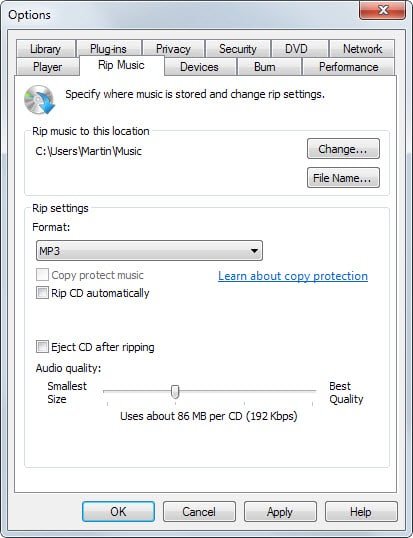 The following options are available:
Set the folder that you want the ripped audio CD tracks to be saved to.
Change the file name preset from track title to a different preset, e.g. track album title.
Select the format that you want the music to be available in. The default format is Windows Media Audio (wma). You can switch that to mp3 or wav instead.
Select the audio quality. If you have selected mp3 as the format, the default quality is set to 128 Kbps. You can increase or decrease the quality which has an impact on the resulting file size.
Once done, insert the audio CD into the drive and select it with a click on the small left-arrow icon at the top left corner of the screen.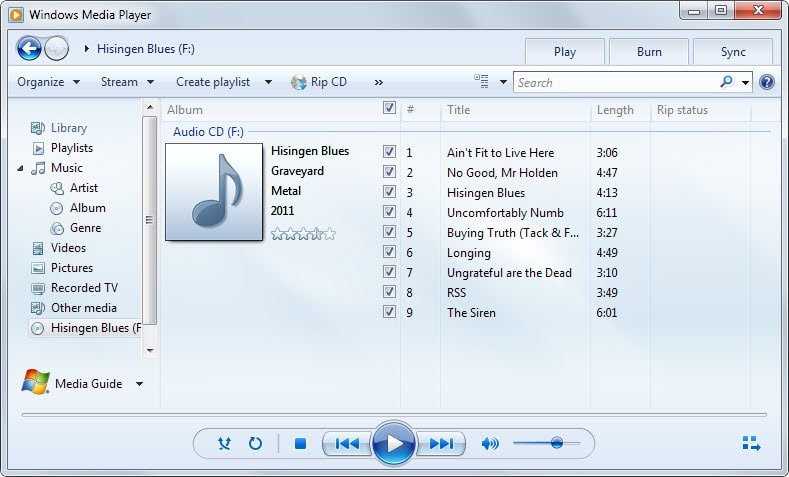 The contents of the CD are displayed here if everything goes according to plan. Hit the rip CD button at the top afterwards to save all tracks of the music CD to your computer in the selected format.
Windows Media Player should display the title of the CD in the left sidebar as well so that you can click on the item there instead.
The selection boxes in front of each title allow you to customize the tracks that you want saved to your system. The process itself is fast and happens in the background.
Windows Media Player displays a progress bar and will add the ripped music automatically to the library so that you can play it right away or at any point in the future.
The option to rip CDs using Windows Media Player is especially handy for users who use it as their main media player thanks to the integration in the library after the ripping.