You are here
Ixquick merges with StartPage search engine
Heads up Ixquick users, the company behind the popular search engine announced today that it will merge the search engine with the company's other big search engine, StartPage.
What it means, basically, is that Ixquick will serve the same search results that StartPage provides.
According to the announcement on the official website, this is done in light of changing market conditions, and to combine the two products into one that is more powerful.
A quick of the Alexa ranking of both search engines reveals that StartPage is more popular than Ixquick, as it ranks among the top 4000 sites while ixquick made it barely in the top 10000 sites listing.
The main difference between StartPage and the current version of Ixquick is that the former is powered exclusively by Google search results while the latter aggregates data from multiple search engines to rank them based on factors such as prominence and quantity.
Both search engines are privacy orientated, and the merging won't change the fact. IP addresses are not recorded for instance, and data is not shared with third-parties.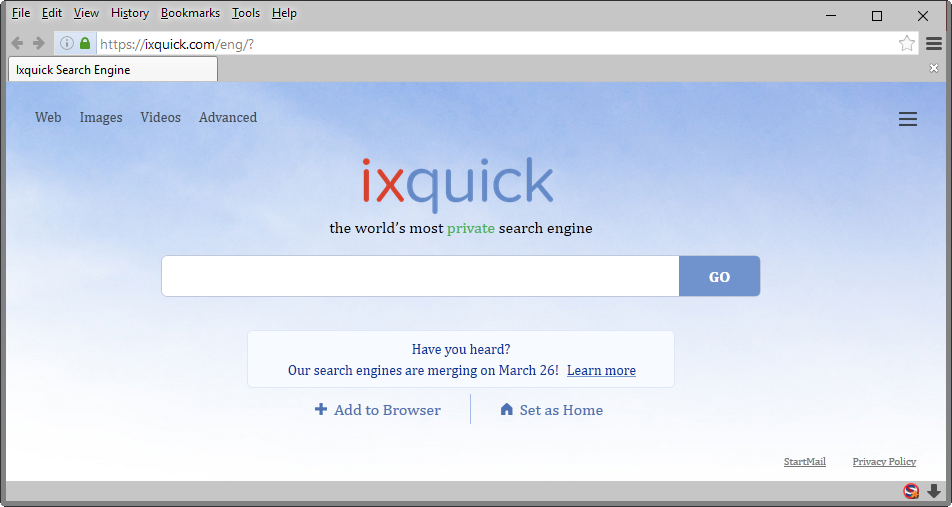 The date for the merging is March 26, 2016. It is unclear right now however whether Ixquick will remain accessible under its current address, or if it will be redirected to StartPage instead.
Starting March 26, you'll receive private StartPage search results on Ixquick.com. We're merging our two search engines so we can focus on fighting Big Brother, rather than maintaining two different brands.

Ixquick has been serving terrific search results since 1999, but when we introduced StartPage in 2009, it quickly grew to become our most popular search engine. In light of changing market conditions, it made sense to combine the two products into a more potent force for good.

StartPage gives you actual Google search results with the full privacy guarantees of Ixquick. Google never sees you – and, of course, neither do we.
What's interesting is that Ixquick's search capabilities will leave on a ixquick.eu which means that current users of the service can use it instead of the .com address to continue using it.
All that is required for that is a change of bookmarks or search providers to use the new address instead of the old one.
Closing Words
Ixquick users who prefer the search engine over StartPage can keep using it, albeit under a new address. It is likely however that a large part of the search engine's user base will migrate over to StartPage.
The move should give StartPage another boost which should be noticeable not only in the site's Alexa ranking but also traffic and word of mouth on the Internet.
Now You: Which search engine do you prefer currently?