The first stable version of Vivaldi, a new web browser by Vivaldi Technologies, has been released on April 6, 2016 to the public.
The web browser, launched by Opera co-founder John von Tetzchner's new company Vivaldi Technologies back in January 2015, swims against the trend of streamlining modern web browsers by giving users choice, features and customization options.
Vivaldi Web Browser
The first stable version of the Vivaldi browser marks an important milestone for the company and users interested in it, as it moves from beta / release candidate to stable which means that Vivaldi Technologies thinks it is ready for productive use.
To be fair, the browser was already fairly stable in its beta state but the upgrade to stable should give it another boost.
Vivaldi Download
The Vivaldi web browser runs on Windows, Mac and Linux systems. Windows and Linux users may select 32-bit or 64-bit editions of the browser on the download page.
Existing users can run update checks from within Vivaldi by selecting Vivaldi menu > Help > Check for updates, or download the new version directly from the Vivaldi website which will recognize the installed version during setup and update it to the stable version of the browser.
The Interface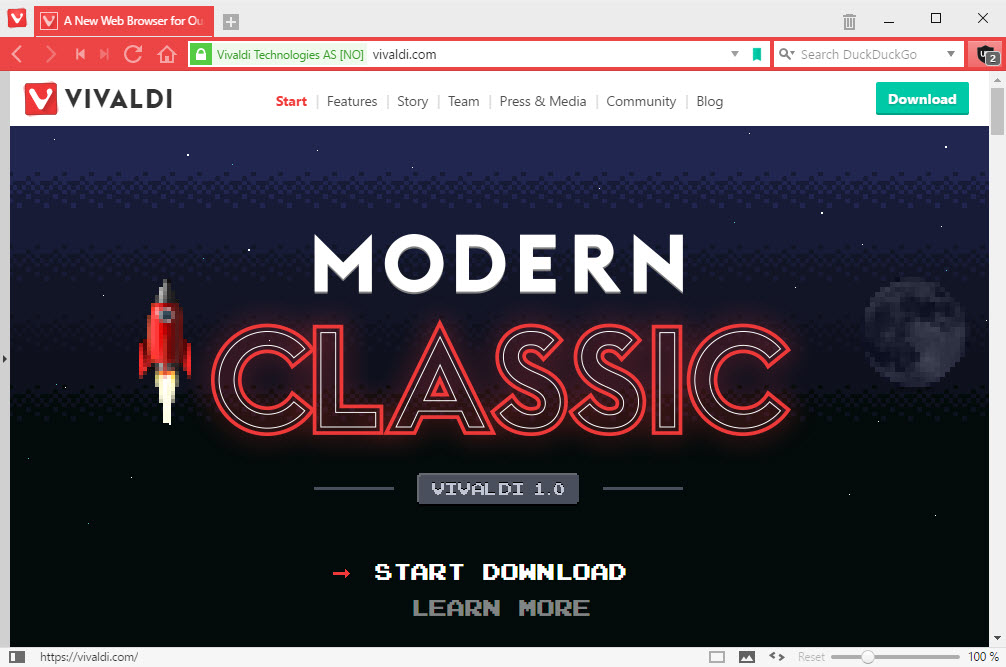 Vivaldi's interface is not as restricted as Google Chrome's is. While most Chromium-based browsers share the same interface, interface modifications have been implemented that set the browser apart from most Chrome clones.
Apart from the menu at the top left and the merging of the tab and title bar, Vivaldi's displaying additional tools in the address bar, a side panel that you can show or hide, and a status bar at the bottom of the screen which you can also show or hide.
Some features resemble those of classic Opera, like the zoom and toggle image option in the status bar, or the side panel.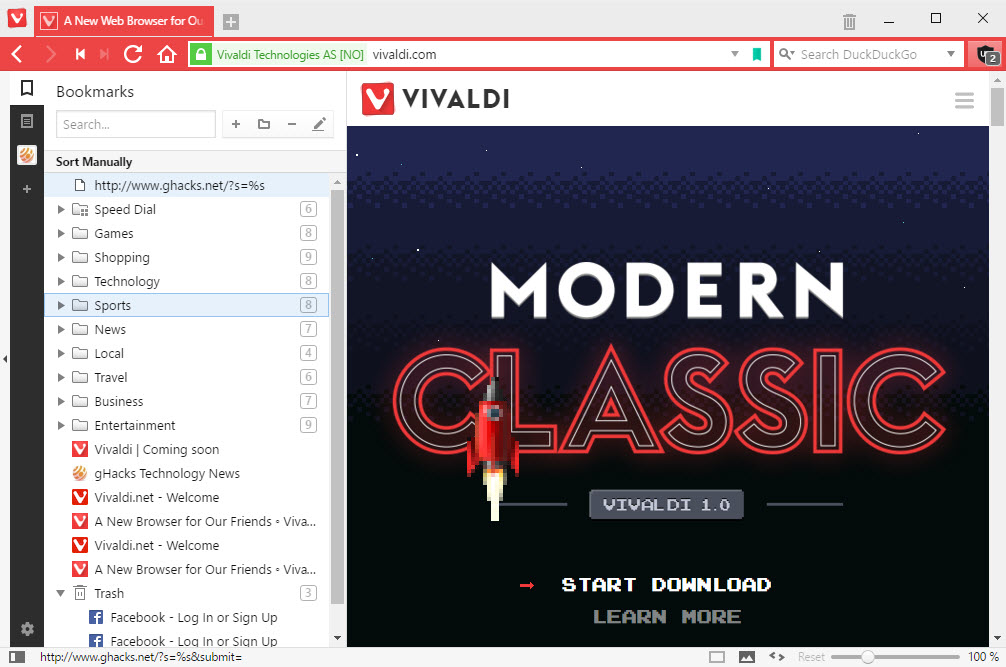 The side panel allows you to display bookmarks, downloads and notes, as well as so called web panels which display any site or service in the sidebar area directly.
Vivaldi ships with a dedicated search field on top of that which the majority of Chromium-based browsers don't support.
You may notice other useful features, like the loading information displayed directly in the address bar that indicates progress, the size of the page and the number of page elements loaded.
The preferences hold several interesting appearance and interface related options. This includes the following options among others.
Show or hide the status bar.
Show or hide the tab bar, and display it at the top, left or right side, or bottom.
Show or hide the address bar, and display it at the top or bottom.
Display the panel on the left or right, or hide its toggle.
Select a light, dark, or page theme color-based interface color.
Set a background color or image.
Major Features
In this review, I'll be looking at features that make Vivaldi stand out from the crowd. While some browsers may support these as well in one form or another, it is safe to say that the majority doesn't.
This means on the other hand that features such as automatic updates, speed dial, tabbed browsing, audio muting, tab pinning or support for HTML5 video sites such as Netflix won't be mentioned here as those are supported by every other browser as well.
Tab Stacks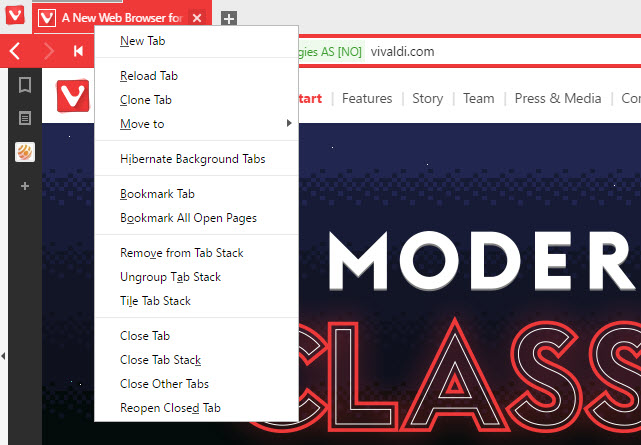 I always liked the idea of stacking tabs to improve visibility in the browser. Unfortunately, no browser up until now added the tab stacking functionality of the classic Opera (well Google did in Chrome, but removed the feature again).
To stack tabs in Vivaldi, drag and drop one on the other. You can stack as many tabs as you like, and toggle between them with a click on the tab.
You will notice that the tab stack takes up the same space as a single tab. On top of that, you get tab tiling options to display all sites and services open in a tab stack at the same time.
Tab Tiling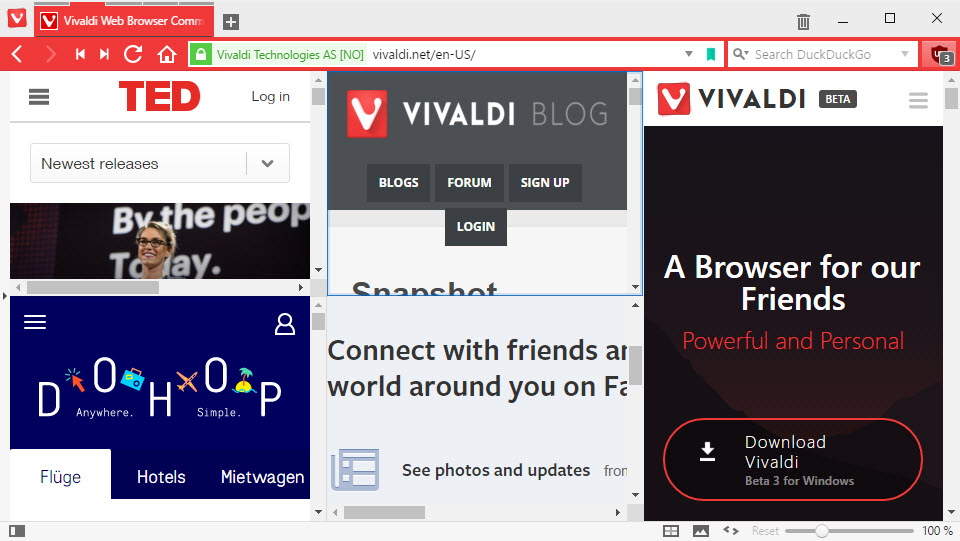 Right-click on any Tab Stack and select "Tile Tab Stack" to display all of its tabs in the same window. The layout displays all tabs side by side all the time if you use the right-click menu.
You can use shortcuts however to change the appearance:
Ctrl-F7 tiles all tabs to a grid
Ctrl-F8 tiles all tabs horizontally
Ctrl-F9 tiles all tabs vertically
Tab Hibernation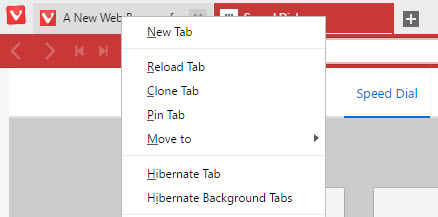 Tab Hibernation unloads sites but keeps them listed as tabs in the web browser. The main idea behind the feature is to give users options to free up memory used by the browser.
To use the feature, right-click on the active tab and select "hibernate background tabs". This will hibernate all tabs but the active tab.
You may hibernate individual tabs as well by right-clicking on them and selecting "hibernate tab" instead. Please note that the option won't show when you right-click on the active tab.
Note Taking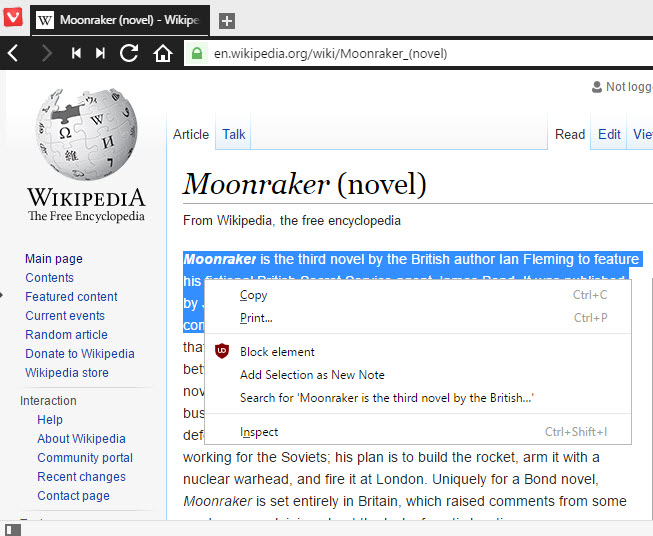 The browser ships with built-in note taking functionality. One handy feature of it is the ability to highlight any text on any website, and add it to a note to keep a record of it.
Simply highlight text in the browser, right-click on the selection afterwards, and select "add selection as a note" from the context menu.
You can access previously created notes on the notes web panel.You will notice that Vivaldi adds date, time and the url to the note automatically.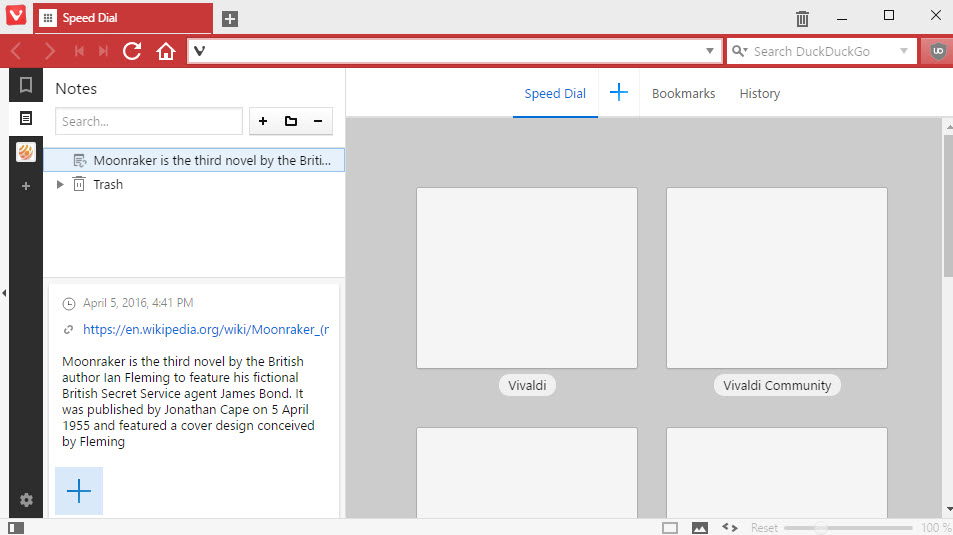 Apart from options to create notes from highlighted text, you may also create notes directly using the Web Panel.
The browser adds date and time automatically to each note that you create. You may add a web address to the note, and add screenshot or file attachments on top of that.
Quick Commands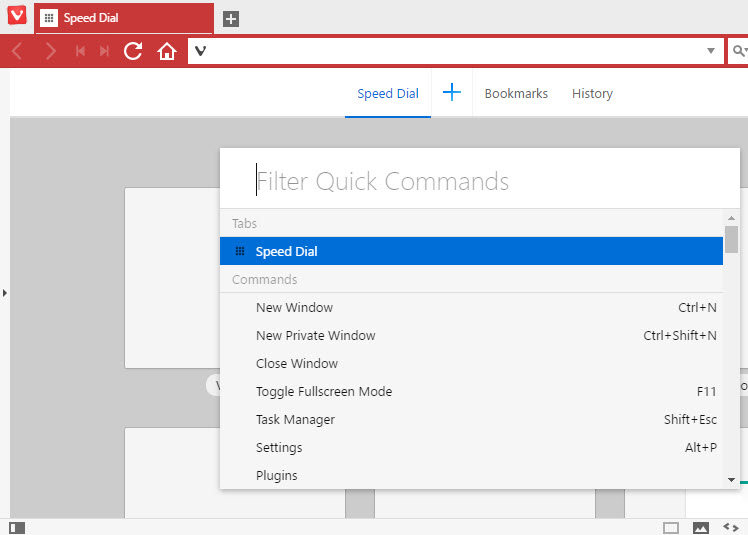 Quick Commands are another interesting feature. If you prefer to use the keyboard for most activities, you may like this one a lot.
Hit F2 to display the Quick Commands interface which displays often used activities such as closing the window or launching a new private window.
Type the first couple of letters of what you want to do, and use the keyboard or mouse to select the option.
While it is not faster than using the keyboard shortcut directly, some options don't have hotkeys associated with them.
A side-effect of using Quick Commands is that hotkeys are highlighted so that you can discover them and use them in the future.
Interface scaling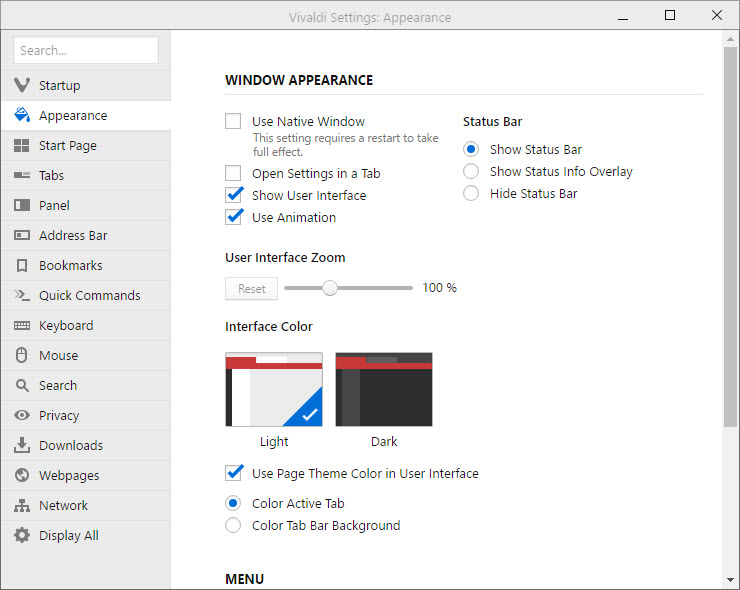 Another interesting feature of the web browser is support for interface scaling. It provides you with options to change the size of interface elements and text in the browser.
You may increase the size for better accessibility, or decrease it to increase the room for website elements.
Tab Sessions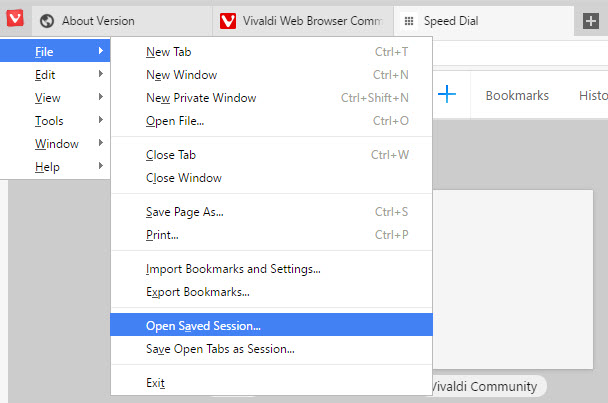 While you can configure the browser to start where you left of, utilizing its session management this way, you can also save all open tabs as sessions to open them again at a later point in time.
To do so, select Vivaldi menu > File > Save Open Tabs as Session. This stores all open tabs as a separate session which you can load at any time in the future.
Settings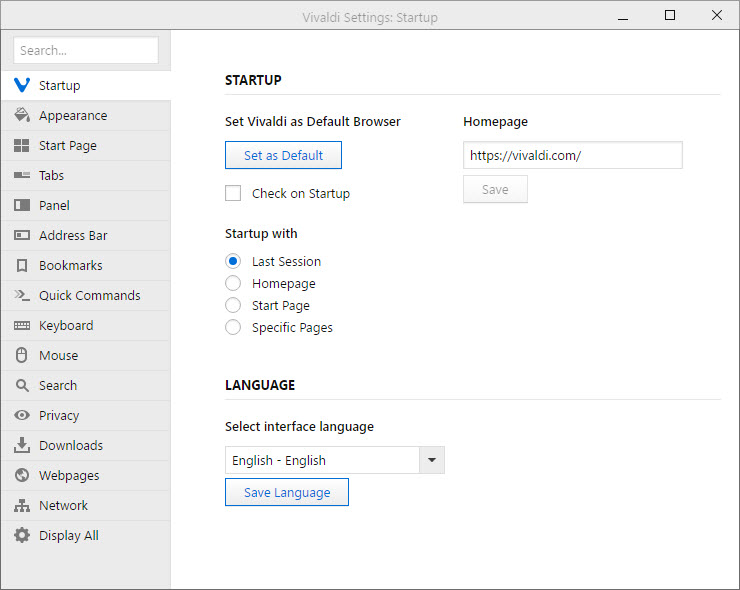 Vivaldi ships with a massive list of settings. You can open the Settings window with a tap on Alt-P, or by selecting Vivaldi menu > Tools > Settings.
I have mentioned several settings already in the interface and feature sections above. Below is a small selection of interesting preferences:
Tabs: Define how tabs are cycled, and enable or disable tab previews.
Keyboard: Learn about keyboard shortcuts, and change shortcuts
Mouse: Enable and learn about supported mouse gestures.
Webpages: Set default web page zoom level (valid for all sites).
Webpages: Set minimum font size.
You may open vivaldi://flags on top of that for access to experimental features.
Vivaldi Extensions

Vivaldi, just like Opera and many other Chromium-based browsers, supports Google Chrome extensions.
In fact, when you open the extensions management screen at vivaldi://extensions, in the browser, the "get more extensions" link leads directly to Google's Chrome Web Store.
The "add to chrome" button there allows you to install the extension directly in Vivaldi. The browser displays the same dialog as Chrome once you hit the add button detailing all permissions that the extension requires to run.
Once you accept it, the extension gets added to Vivaldi so that you can use or benefit from the functionality that it adds to the browser.
Extensions can be removed from the internal extensions page, and just like in Chrome, there is a Developer Mode option that enables you to sideload extensions directly as well.
As far as compatibility with Chrome extensions is concerned, the overwhelming majority of extensions should work fine while some extensions may not work fully or at all (for instance those that leverage Chrome-specific code).
Benchmarks
How does Vivaldi compare to stable versions of Chrome, Firefox, Edge and Opera? We ran a test of benchmarks on all stable versions, and below is the result.
The benchmarks used were HTML5Test, Kraken, Octane and Browsermark. Higher values are better except for Kraken were lower values are better.
| | | | | |
| --- | --- | --- | --- | --- |
|   | HTML5Test | Kraken | Octane | Browsermark |
|   |   |   |   |   |
| Google Chrome | 521 | 1692 | 19049 | 4703 |
| Microsoft Edge | 453 | 1932 | 21759 | 2785 |
| Mozilla Firefox | 478 | 1763 | 18237 | 3852 |
| Opera Browser | 520 | 1658 | 18470 | 4583 |
| Vivaldi Browser | 521 | 1642 |  19069 | 4655 |
The future
The first stable version is a milestone but not the end of the road for development. Vivaldi Technologies has big plans for the browser. Jon von Tetzchner had this to say about the future of the browser.
Moving forward we will continue to focus on end user requests. As part of that we will be providing a full mail client. Advanced Internet users continue to use many mail accounts and we feel that there is a significant hole in the market there. But generally we will continue to improve and innovate, based on end user demand and requirements.
User feedback, and the feature-richness of classic Opera are the two driving factors that drive the browser's development.
Verdict
Vivaldi is a promising web browser for Internet users who want options when it comes to using a browser. While there is still work to be done, it is in my humble opinion the browser that I'm most excited about.