You are here
Dropbox makes changes to camera upload feature
Dropbox will turn off automatic camera uploads in the company's mobile applications for free users of the service starting July 22, 2016.
The change is one of many the company announced on the official blog today.
On July 22, 2016, we're changing the way camera uploads works in Dropbox Basic accounts. As of this date, Dropbox Basic users will need to have the Dropbox desktop application installed to continue using camera uploads.
Starting July 22, 2016, camera uploads will be turned off for all free users of Dropbox. This means that new photos or videos won't be synced anymore with Dropbox.
The reason for the change according to Dropbox is that free Dropbox accounts can run out of space quickly if the feature is enabled.
When you automatically upload all your photos to Dropbox, your Basic account can quickly run out of space. By connecting a computer to your account, you can easily transfer photos and organize them on a computer so you don't run out of space in your Dropbox.
Solutions
Dropbox offers two solutions for free users who want to upload photos to the service.
Connect a computer to the Dropbox account, and use it to upload photos.
Upgrade to Dropbox Pro which is not limited in this regard.
It is clear that the change makes things difficult for free users of Dropbox who use the camera uploads feature.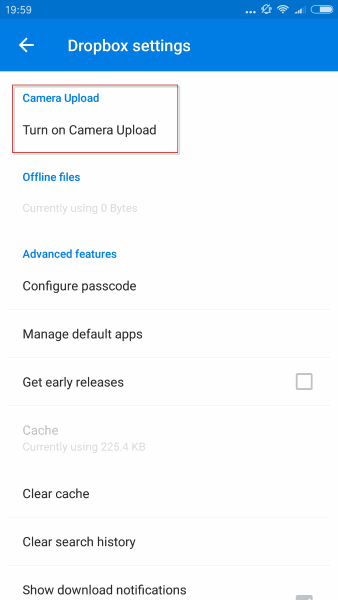 Instead of having photos transferred immediately that you take using the device, it is now necessary to have a computer, download the Dropbox program, and link it to the account.
Users who do that regain control of the camera uploads feature in the Dropbox application, and the same is true if users upgrade to a Pro account. The latter is the only option to retain the functionality without requiring a computer connected to Dropbox.
Dropbox's solution for users without a computer, users who don't want to install the Dropbox desktop application, and users who don't want to upgrade their account to Pro? Use manual uploads in the application instead.
Using manual uploads gives users more control over the uploading process, but it means at the same time that this manual step has to be completed to upload photos to Dropbox.
The number of Dropbox users affected by the change is unknown. Unless announced by the app when the change happens, it is likely going to cause some confusion as to why photos don't upload automatically anymore.
Now You: Do you upload photos automatically to a cloud service on your mobile devices?