You are here
MuteTab for Chrome gets blacklist feature
MuteTab introduced options to mute audio playing in Chrome before Google integrated native audio controls into the browser.
The extension placed an icon on Chrome's main address bar that you could click on to display all noise making tabs in the browser, and to control the flow of audio.
While not as convenient as Google's implementation, it still served a purpose after Google integrated audio muting in Chrome natively. Since it displays all tabs when clicked on, it provided a better muting experience if lots of tabs were open in the browser.
MuteTab version 3.0 improves the extension significantly. It takes advantage of the native audio handling options that Google introduced in Chrome.
Thanks to that, the extension ships now with blacklist and automatic muting options among other things.
MuteTab for Chrome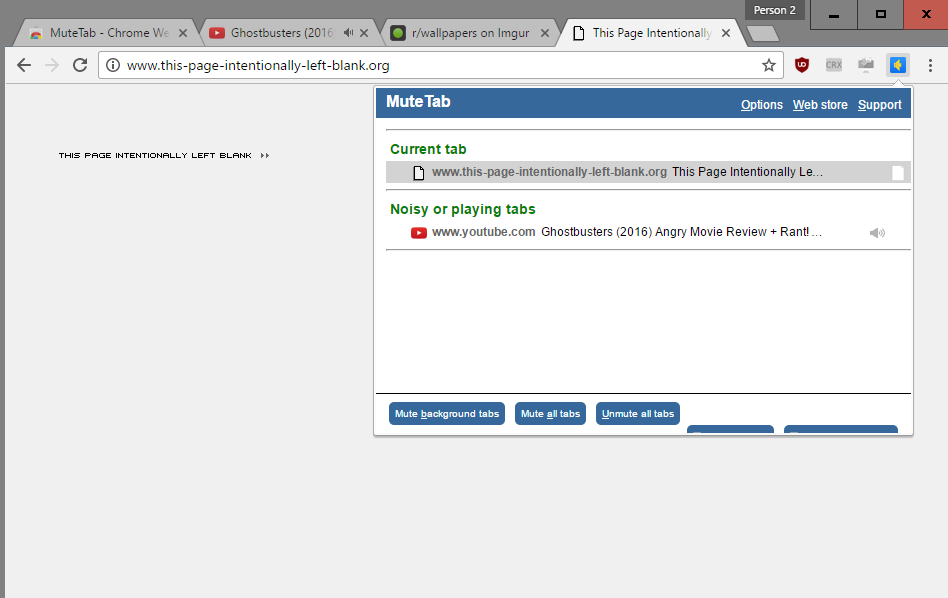 The new version of MuteTab for Chrome places an icon on Chrome's address bar that controls its functionality. A click on the icon displays a list of all tabs that are noisy or playing audio at the time.
You find buttons next to each tab to toggle audio playback right there. You may also hit the "mute background tabs" or "mute all tabs" button to block audio playback for all background tabs or all tabs.
There is also an "unmute all tabs" button, and two buttons that were not displayed correctly on my system. The first enables privacy mode, the second turns of the extension's auto-muting capabilities.
Privacy Mode basically mutes everything in the browser. It is designed for situations where you require silence and don't want to be disturbed by audio.
Blacklisting audio playback in Chrome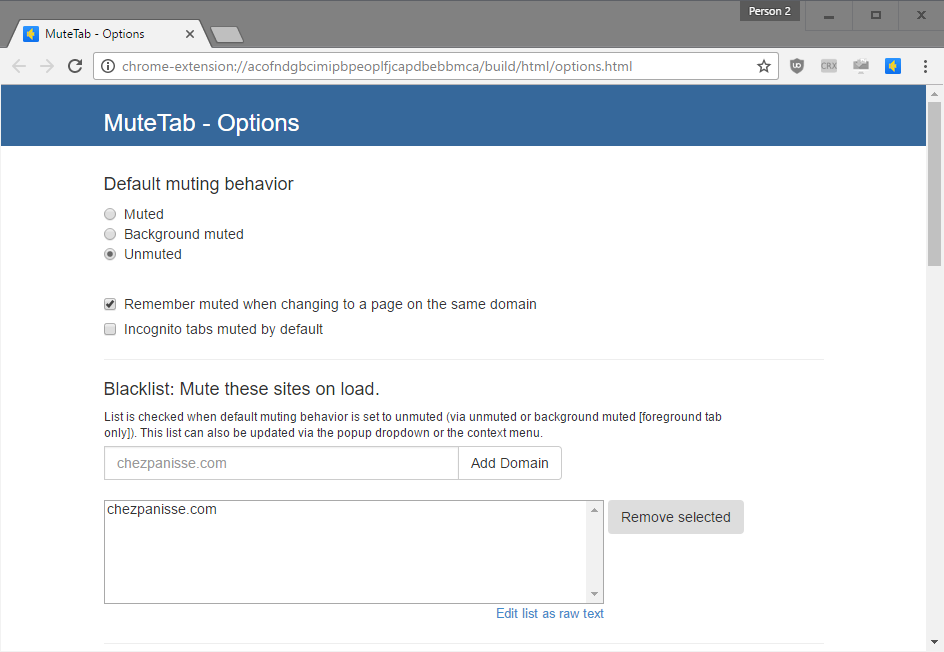 The options provide you with blacklisting behavior, and that is where the extension shines. You may set the default muting behavior to muted or background muted for instance by default. Other options include having the extension remember muting settings on the same domain, and to mute incognito mode tabs by default.
The blacklist and whitelist functionality the extension ships with gives you even greater control. Blacklisted sites will be muted automatically on load, and whitelisted won't be even if the default behavior is set to mute or background mute.
The third option is to set up music sites that you want left alone when muting tabs. This is different from whitelisting sites as whitelisting takes only care of audio on load and not afterwards.
The extension ships with an experimental "music ducking" feature. It is designed to mute audio of music that plays in other tabs when a video is played, and unmute audio again when it stops.
You may set keyboard shortcuts for specific events to control audio playback using the keyboard, and may furthermore control all features using the right-click context menu as well.
Closing Words
Mute Tabs works well for the most part. The display issue of the extension menu is annoying but it will get fixed eventually. The option to set a default audio behavior in Chrome, and the blacklisting / whitelisting options, give you great control over audio playback.
Now You: How do you handle noisy tabs in your browser of choice?