You are here
Verizon new Yahoo owner
Verizon and Yahoo announced today that Verizon will acquire Yahoo's operating business for "approximately $4.83 billion [US Dollar] in cash".
The acquisition marks the end of Yahoo's independence, and moves core assets under the Verizon umbrella.
Verizon, which acquired AOL last year, controls several key Internet properties already including The Huffington Post, TechCrunch, Engadget, and AOL.com.
Verizon will acquire the Yahoo brand name as well as core web, mobile and other products of Yahoo's operating business.
This includes Yahoo Finance, News and Sports, Yahoo Messenger and Yahoo Mail, Yahoo Search, Tumblr, Flickr, and a variety of smaller properties.
Verizon new Yahoo owner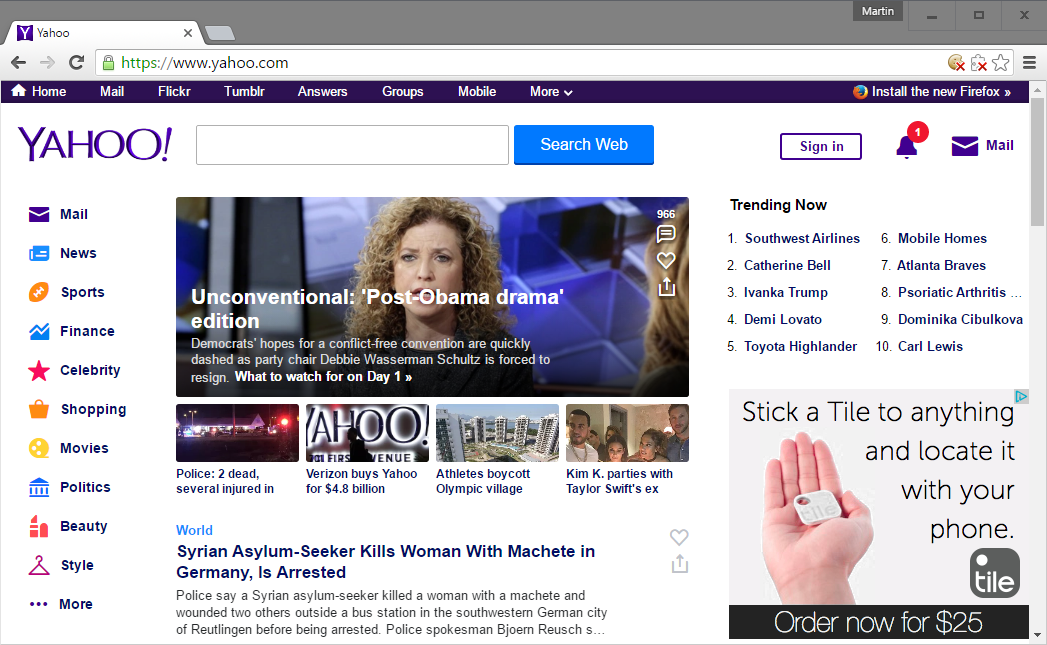 Verizon plans to integrate Yahoo's assets under the AOL umbrella. What's probably most interesting from a user perspective is the outlook for individual Yahoo products.
Will Verizon keep them all? Will some be sold to other companies, or some even retired completely?
While Verizon or Aol did not make any mention of plans to retire or sell Yahoo assets, it seems likely that the company will have a good hard look at all Yahoo properties.
One possible strategy would be to retire products that are not lucrative, not promising or simply don't match the overall strategy of Verizon's content strategy.
Yahoo Search for instance might be one of the assets that may get handed over to another company. Aol Search for instance is powered by Bing already. On the other hand, there is the matter of Yahoo's Search deal with Mozilla, makers of Firefox. Yahoo agreed to pay Mozilla $375 million per year until 2019 for becoming the default US search engine of the browser.
The contract signed gives Mozilla the right to leave the partnership in case that Yahoo got sold to another company and Mozilla would find the new owner / partner unacceptable. Additionally, Yahoo would still have to pay Mozilla the annual revenue guarantees.
It seems likely that some Yahoo products will be merged with AOL offerings. Yahoo Tech seems a likely candidate for that for instance, as both TechCrunch and Engadget operate in that niche already.
Changes
Additionally, it will be interesting to see if Verizon will announce changes for some of the products that it plans to keep. Will it change the content policy on Tumblr for instance, or merge some Yahoo platforms with platforms it already owns?
It seems likely that there will be changes for some of the products at the very least. The most likely candidates for that are products not mentioned in the press release specifically. This includes Tumblr and Flickr, Yahoo Messenger and Search.
Now You: What's your take on the deal? Which Yahoo properties will Verizon sell off or retire?