You are here
Firefox's latest Test Pilot: No More 404s
Mozilla launched the new Test Pilot project No More 404s yesterday on the official Test Pilot website.
The add-on has been designed to provide Firefox users with options to read an earlier version of a deleted web page.
Basically, what it does is monitor response codes for 404 not found errors to display an option to the user to use the Internet Archive's Wayback Machine to read a previous snapshot of the page.
404 error codes are often returned when web pages get deleted. While a site or page may be gone, links pointing to it may still exist.
You may stumble upon dead links when using search engines, browsing other sites, or even in the browser's bookmarks.
Firefox Test Pilot: No More 404s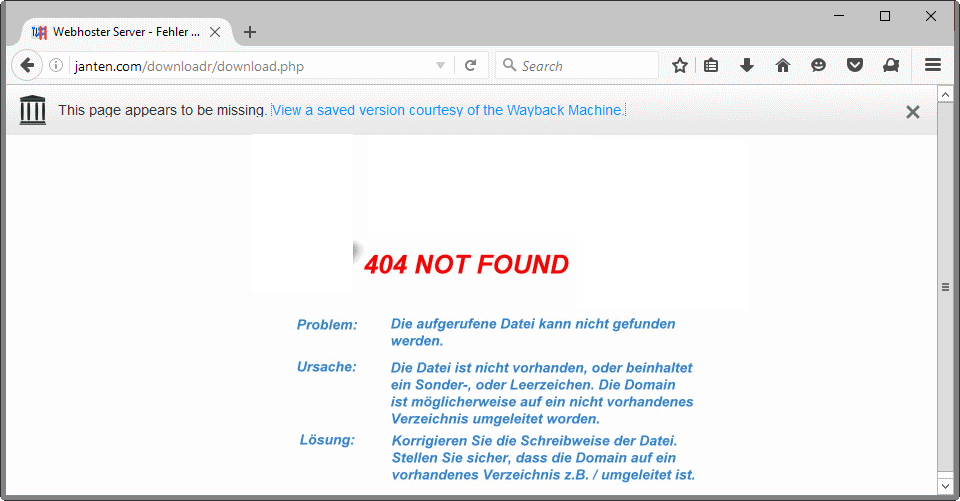 While sites may display 404 not found errors, others may return other error codes or even redirect users to another page or even another site.
Mozilla's Test Pilot add-on is rather basic when it comes to that. It reacts only when a 404 not found error is recognized by the add-on. The add-on won't display the prompt if a site returns a different kind of error, or is redirected.
The notification reads: "This page appears to be missing. View a saved version courtesy of the Wayback Machine".
You may click on the link to open the Internet Archive website to read an archived snapshot of the page on the site. Please note that you may middle-click on the link to open the page in a new tab in the Firefox browser.
There is no guarantee that a saved snapshot exists but if a page has been popular in the past then there is a good chance that a snapshot exists.
No More 404s is not the first Firefox add-on to introduce the functionality. The excellent Resurrect Pages extension for instance provides Firefox users with multiple options to check whether a snapshot or cached copy of a page exists.
The add-on supports the Internet Archive, caches of various search engines, and other caching and archiving sites.
A couple of features would make No More 404s more useful. Since it does not pick up non-404 error codes or page redirects, it would be useful if Firefox users could initiate a search for an archived copy manually. Also, it would be useful if it would support a blacklist feature, or an on/off toggle-
Firefox users who want to give it a try can do so on the linked Firefox Test Pilot site. Please note that the Test Pilot add-on needs to be installed first before test add-ons can be installed in the browser.