You are here
Windows 10 Insider Build 15025 is all about bugs and fixes
Microsoft pushed out Windows 10 Insider Build 15025 to the Fast Ring channel yesterday evening featuring mostly bug fixes.
Some devices, all running 32-bit versions of Windows 10, are excluded from receiving the update though the company notes in a blog post announcing the new release.
Microsoft plans to make ISO images available at the end of the week which will work on 32-bit PCs as well so that the update may be installed on those devices.
The new feature listing is on the light side this time after being quite impressive in builds 15014 and 15019.
Windows 10 Insider Build 15025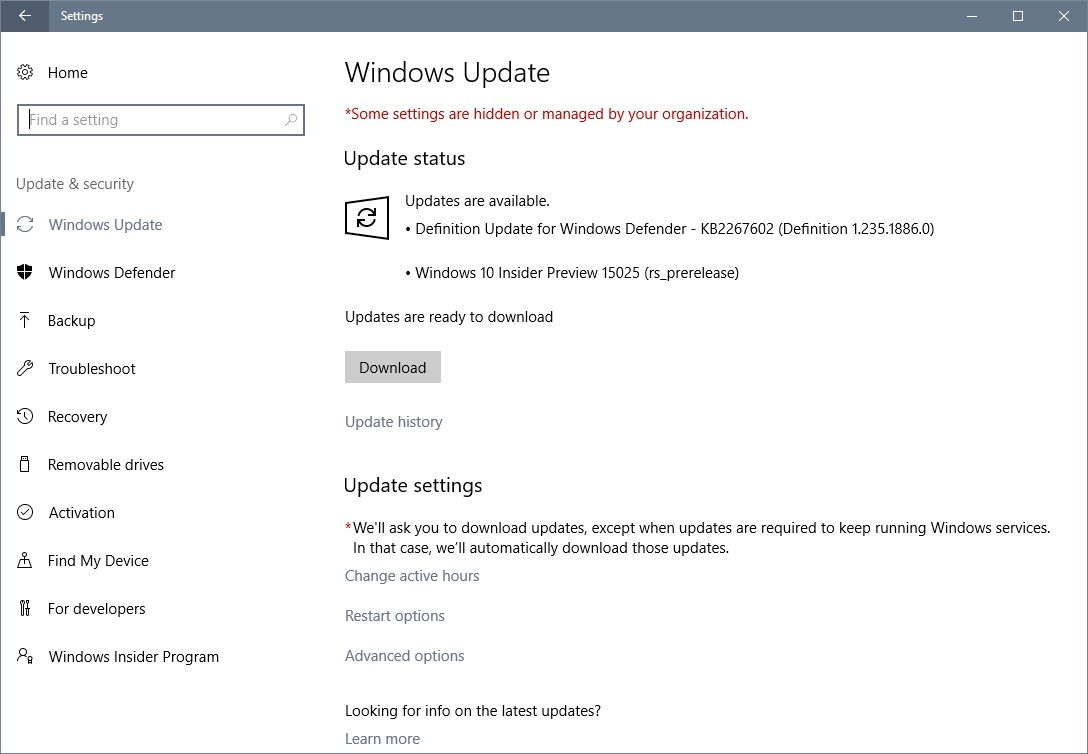 Microsoft is still tinkering when it comes to the new blue night light feature of Windows 10. The change in this particular build of Windows 10 drops the minimum K value to 1200 K. The company notes that the entire slider range should work now as well.
Night Light may be used to display warmer colors at night to be easier on the eyes and improve sleep. It can be enabled automatically, for instance on schedule, or enabled manually.
Windows 10 Build 15025 features two improvements to accessibility features. First, beta Braille support is now available in Narrator.
To make use of it right now, you need to perform the following actions:
Make sure that Narrator is enabled. You find it under Start > Settings > Ease of Access, or by using the keyboard shortcut Windows-U.
Click on the "download and install Braille" button on the same page.
Find Enable Braille under Settings > Ease of Access, and add a braille display afterwards. The Windows implementation supports USB and serial connections.
Select the language and braille table afterwards on the same page.
Microsoft notes that you should not enable Braille in Windows 10 if you are using a third-party screen reader already as a braille display due to issues that exist currently.
The second accessibility feature enables you to set up mono audio in the Ease of Access settings. You can enable it under Start > Settings > Ease of Access > Other Options.
Apart from collections in the Feedback Hub, all remaining changes are fixes or smaller improvements for existing features.
Gamers will be happy that Microsoft fixed the game window minimizing issue, Google users that connections to certain Google sites are no longer problematic, and Edge users that extensions in the browser work again.
The list of active bugs in the latest Windows 10 Insider Build version is not as scary anymore as it was in the last version, but some bugs may still have a major impact on the system.
Microsoft is working on fixing issues with Edge's Developer Tools that may hang, crash or fail when invoked.  The bug that audio stops working sporadically is still there, and the Action Center bug that makes it appear blank and transparent as well.
Two new bugs have been discovered already in this new version. The first affects some games that use copy protection. Microsoft does not reveal how these games are affected though, but the most likely scenario is that those games refuse to run.
The second bug affects the Desktop App Converter which enables developers to turn legacy Windows programs into UWP applications. The program fails to run on this particular version of Windows 10.
Closing Words
The next Insider Build releases will feature fewer feature additions, and more bug fixes and improvements to existing features. Microsoft plans to release the Creators Update in March or April of 2017.
Now You: What's your take on this new build?