You are here
Dmoz Directory to shut down on March 14, 2017
Dmoz, one of the longest standing, human curated, directories on the Internet will be shut down for good on March 14, 2017.
Directories played a huge part in the early days of the Internet, especially if they were curated by companies or volunteers.
There were several reasons for that. First, because search engines were not all that good in the days. Dmoz dates back to a time were Google did not exist yet, and Netscape fought it out against the dominating Internet Explorer browser. Yes, Opera was there to.
It was a lot easier to use directories to find websites of interest, than to use a search engine.
Second, webmasters used directories as a way to promote their sites. While there was a lot of abuse, especially when it came to automated directories that accepted any site, getting listed in a curated directory such as Dmoz or the Yahoo Directory.
Links on those directories not only guaranteed a steady flow of visitors, but also a strong backlink which added weight to the site in search engines.
Dmoz shutting down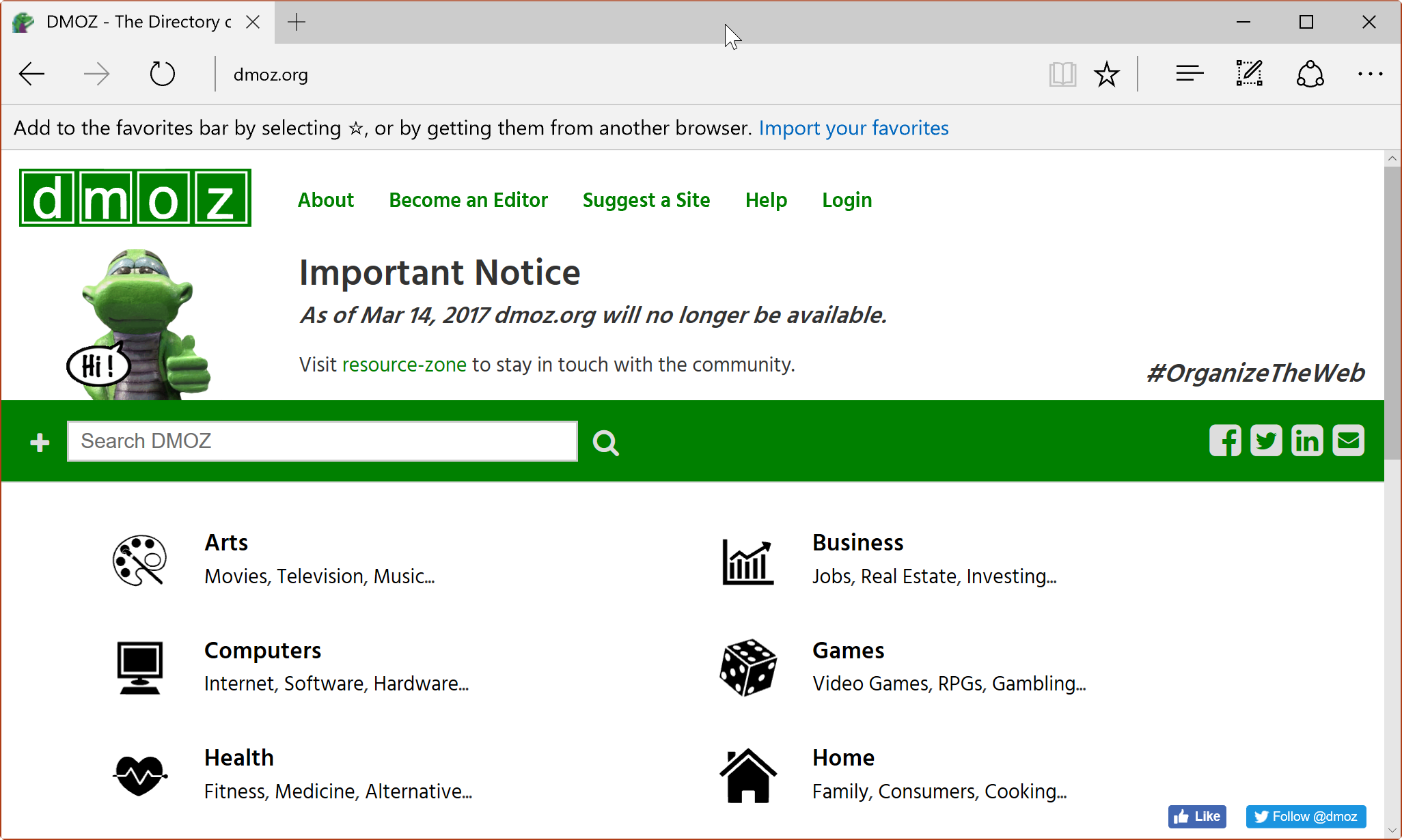 The announcement does not highlight why Dmoz is shutting down, only that it is the case.
Dmoz is owned by AOL, and the decision to shut down the site must have certainly come from AOL. While it is unclear why, costs of running and maintaining the site may have played a role next to Dmoz losing more and more relevancy on the Internet as a resource.
The site will be taken down on March 14, 2017 and there is no indication that the directory will live on elsewhere. While you may be able to access its content on the Wayback Machine website, that only remains an option if AOL does not add a no robots tag to the site's index after shutting down Dmoz.
The Dmoz directory outlived Yahoo's Directory for almost three years. While there are still plenty of directories around, none that I know of that has the name or popularity of Dmoz or Yahoo Directory.
It is interesting to note that Dmoz won't vanish completely overnight. The NOODP meta tag is used by Internet sites to indicate to search engines that search engines should not use the descriptions by Dmoz if available, but the site's own. These tags won't do anything anymore after March 14, 2017, and it is recommended to remove them from sites after that date because of that.
Now You: Do you use directories on today's Internet?