You are here
Microsoft releases .NET Framework 4.7
Microsoft released the .NET Framework 4.7 on April 6th, 2017 for all supported operating systems featuring bug fixes and improvements.
The new version of the Microsoft .NET Framework is included in the Windows 10 Creators Update. It is also available for the Windows 10 Anniversary Update, Windows 8.1, and Windows 7 Service Pack 1 on the client side of operating systems, and for Windows Server 2016, Windows Server 2012 R2, Windows Server 2012, and Windows Server 2008 R2 Service Pack 1 on the server side.
The company added support for the new version of the framework to Visual Studio 2017 as well. The update is already available, and customers who run Visual Studio 2017 need to update it to target the .Net Framework 4.7.
A .Net Framework 4.7 targeting pack will be released for earlier versions of Visual Studio. Downloads will be published on this Microsoft web page.
Microsoft notes that the new .NET Framework 4.7 will be out soon for all operating systems, and that it is currently only available on systems with the Windows 10 Creators Update.
Microsoft .NET Framework 4.7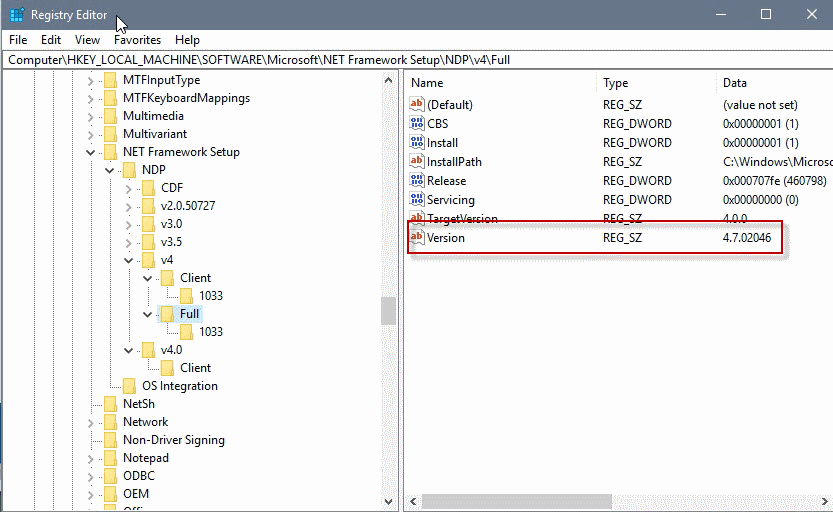 The release is mostly important right now for developers who want to make use of the new capabilities introduced in the new framework version.
Windows users will benefit from those as soon as developers start to utilize them. The .NET Framework 4.7 does ship with performance and reliability improvements however, and since it is an in-place update of the .NET Framework 4.6.2, apps compatible with that version should run fine on after the update as well.
As far as new features are concerned, Microsoft mentions three in particular for developers:
High DPI support for Windows Forms applications on Windows 10 -- DPI improvements including displaying layout correctly on high DPI screens, use of high-resolution icons and glyphs, and better support for changes in DPI, for instance when moving an application across monitors.
Touch support for WPF applications on Windows 10 -- WPF integrates with touch, and stylus/ink support in Windows 10.
Enhanced cryptography support -- new version ships with options to sign ClickOnce manifest files with a HardwareSecurity Module.
The announcement blog post over on MSDN goes into detail, and provides links to documentation and additional information.
You may also be interested in the .NET Framework 4.7 release notes which you find here.
The .NET Framework documentation has been moved over to docs.microsoft.com. Microsoft notes that it looks better, and is easier to read and navigate when compared to the old version of the documentation.