You are here
Microsoft releases Windows 10 Insider Preview Build 16237
Microsoft has pushed out another build of its upcoming Windows 10 Fall Creators Update feature update to the Windows 10 Insider Fast Ring channel.
Windows 10 Insider Preview Build 16237 brings new features to Microsoft Edge, the default browser of Windows 10,  and improvements to Windows Shell, Input, gaming, Task Manager, Hyper-V, and a truckload of other fixes and changes.
The new version is already available through Windows Update.
Windows 10 Insider Preview Build 16237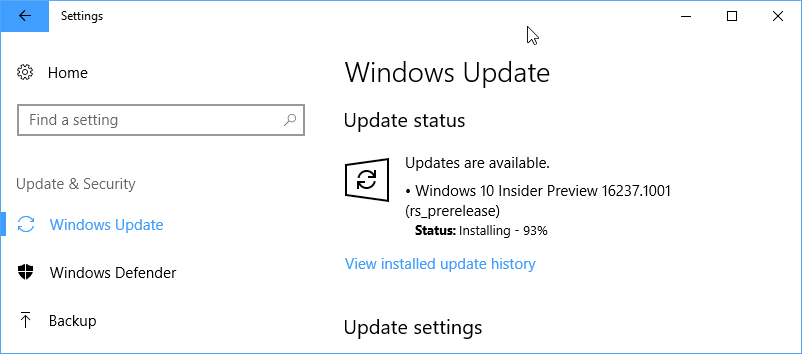 Microsoft Edge
Work on Microsoft Edge continues in this build. Microsoft added a read aloud feature to Microsoft Edge that allows you to use the text to speech functionality on websites or when PDFs are open in the browser.
The functionality supports word and line highlighting for easier process tracking.
Other improvements include a new animation for adding favorites to the browser. This indicates where those favorites can be accessed from, something that may not be clear right away in current versions of the browser.
If you use Share functionality in Microsoft Edge, you will notice that the user interface of Share matches the Edge theme if a different theme is used in the browser.
Windows Shell improvements
Microsoft fixed a long standing issue that affected Windows users who dock/undock or remote from a device with a high DPI display. Most desktop apps become blurry when this happens, and the two core reasons for that to happen are that apps don't respond to DPI change notifications, and that Windows keeps the display scaling/DPI data that it reports to apps until users log out and back in again.
While the newest build does not fix the issue entirely, it does offer a partial solution. Instead of having to sign out and in again, it is now sufficient to restart the application that is blurry.
There are some caveats however.
Some things to note: this won't work for all desktop apps (and doesn't apply to UWP apps). Also, this only helps apps that become blurry after a change to the display scale factor of the main/primary display. This change, unfortunately, doesn't improve apps that are blurry on secondary displays when in "extend" display mode. Please give this change a try and let us know if you hit any bugs.
The Win32 MessageBox is natively per-monitor DPI aware as well now in this build.
Action Center and notifications were improved as well in this build. One change that may make things easier for users who use the Action Center is that the first notification of each group of notifications is expanded automatically now. This allows you to react quickly to it without having to expand it first.
Input Improvements
A lot of work went into improving various input related tools and features. Users who like Emoji may like that the Emoji Panel supports emoji 5.0 now.
Another useful option is the ability to hover over any emoji to get its Unicode character name. If you don't know what an emoji means, you can use this new method to find out about that.
The touch keyboard and the handwriting panel were updated in this build as well. Mostly with fixes for issues that users may have ran into in previous builds.
I suggest you check out the linked blog post by Microsoft to find out about those changes.
Other changes
The build features fixes for issues for the most part, for instance the new "virtual machine gallery" under Hyper-V quick create. It is not functional yet though which means that you will have to wait for future builds to add the functionality.
As always, make sure you read through the list of known issues before you start upgrading a machine to the latest Insider version.
Now You: Now that the Windows 10 Fall Creators Update is near feature complete, what is your take on the new version?