You are here
Terms of Service; Didn't Read: TOS Summaries
Terms of Service; Didn't Read is a free online service and browser extension that provides you with terms of service summaries.
Whenever you sign up for an online service, or install most software programs or applications on your devices, you agree to the terms of service of the developer, company or manufacturer.
The vast majority of users does not read terms of service but agrees to them without reading them. Reasons for that are manifold: from difficult to understand legal terminology and the sheer size of the documents to not caring about what a company may or may not do with your data.
Researchers calculated how much time the average person would spent reading terms of service, and they came up with 76 work days.
It is clear that the system is broken, in favor of companies that provide these services.
Terms of Service; Didn't Read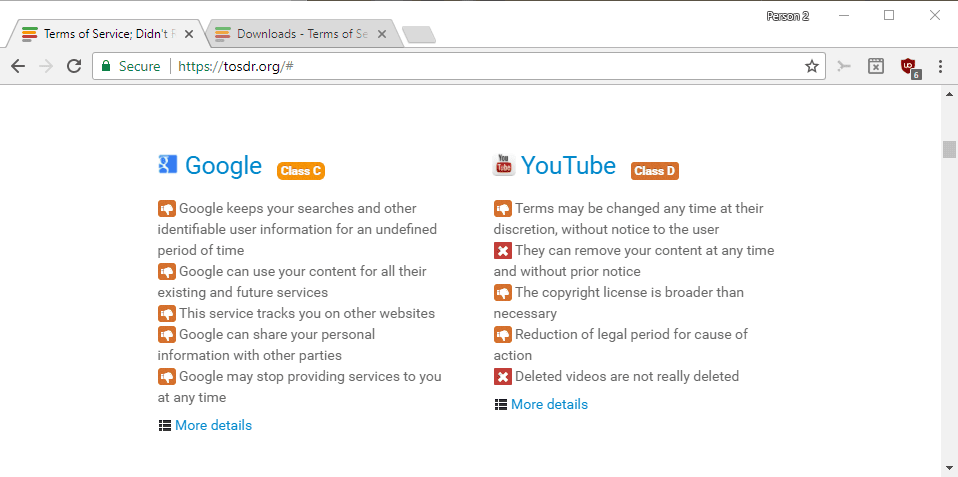 Terms of Service; Didn't Read is a user rights initiative designed to "rate and label website terms & privacy policies".
Basically, what you get is a rated summary of a service's terms of service or privacy policy. YouTube gets a D for instance, Google a C, GitHub a B, and DuckDuckGo an A. The best rating is an A, the worst an E.
The service lists positive, negative and neutral points in a bullet list so that you may go through it in a matter of seconds instead of hours.
You may click on the "more details" link however for additional details on each item of the summary.
Terms of Service; Didn't Read lists popular services on its startpage. A search is provided to find services and websites of interest. While you find plenty of sites in the database, some of the world's most visited sites are not included. This is the case for eBay, Startpage, Archive.org, or Outlook for instance.
While you can use the service exclusively on the project's website, you may also download and install browser extensions instead. Extensions are provided for Firefox, Chrome, Opera and Safari at this point in time.
All are open source, and display a hint in the browser UI if a supported site is visited. A click on the icon displays the summary for that site. The Chrome extension displays a desktop notification on top of that if sites are visited that have received a bad rating.
Closing Words
Terms of Service; Didn't Read is not the first "summary" service but it has been available for years and is still actively maintained. Since it is a community project, anyone may submit new entries or modifications to the database.
Now You: How do you handle terms of service?