You are here
Google launches Chrome Enterprise
David Karam, Google Chrome Enterprise product manager announced yesterday on Google's The Keyword blog the launch of Chrome Enterprise.
Chrome Enterprise is designed to be a "single, cost-effective solution" for organizations to "give them the flexibility and control to keep their employees connected".
Chrome Enterprise offers a host of features, including access to enterprise app storefronts, deep security controls, 24/7 support, as well as integration with cloud and on-premise management tools, VMware Workspace ONE and MicrosoftⓇ Active Directory
The name that Google selected for the service is confusing. Chrome Enterprise is not about Google Chrome, but about Chrome OS. There is also Chrome Enterprise Support which Google offers already for organizations to "configure, deploy and manage the Chrome browser", and the MSI file of Chrome Browser for Business is called Chrome Standalone Enterprise, or short, Chrome Enterprise.
Chrome Enterprise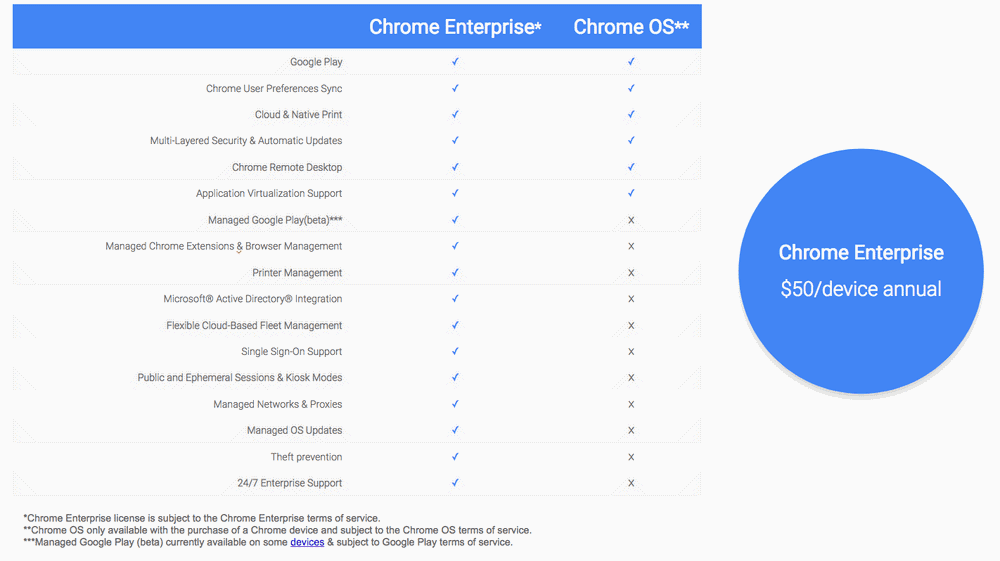 Chrome Enterprise is available for $50 per device per year of service. It is Chrome OS but with features added to it that provide Enterprises with better management options.
Google lists the following additions:
Managed Google Play (beta)
Managed Chrome Extensions & Browser Management
Printer Management
Microsoft Active Directory Integration
Flexible Cloud-Based Fleet Management
Single Sign-On Support
Public and Ephemeral Sessions & Kiosk Modes
Managed Networks & Proxies
Managed OS Updates
Theft Prevention
24/7 Enterprise Support.
Chrome Enterprise is fully compatible with on-premise infrastructure through Microsoft Active Directory according to Google.
This integration allows employees to use their native credentials to authenticate across devices and Google Cloud Services like Google Play while centralizing management of user and device policies for IT admins.
Chrome Enterprise administrators may use a single unified endpoint management solution to manage all devices. The first third-party solution that Google integrated into Chrome Enterprise is VMware Workspace ONE.
Workspace ONE will provide a centralized approach to managing corporate-owned or bring-your-own device
Some features that Google listed as Chrome Enterprise exclusive are already available for Enterprise customers with device management licenses. This includes operating system updates, public sessions, or kiosks for instance.