You are here
New Tab Override WebExtension released
New Tab Override is a popular add-on for the Firefox web browser that you may install to customize the new tab page of the web browser.
Mozilla removed the option to pick any page as the new tab page in Firefox 41, and users of the browser had to rely on extensions to regain the functionality.
New Tab Override was the first extension for Firefox to introduce the removed core functionality again, and it has been updated several times since then.
Sören Hentzschel, who is the developer of New Tab Override, released a WebExtension version of the browser add-on recently. The new version guarantees compatibility with Firefox 57 and beyond, as Mozilla plans to drop support for legacy add-ons when Firefox 57 gets released in November 2017.
WebExtension APIs are still in development, and the whole architecture is being developed as new versions of Firefox get released and legacy support dropped.
The consequence for New Tab Override is that the WebExtension version does not support all features of the legacy add-on version yet..
New Tab Override 8.0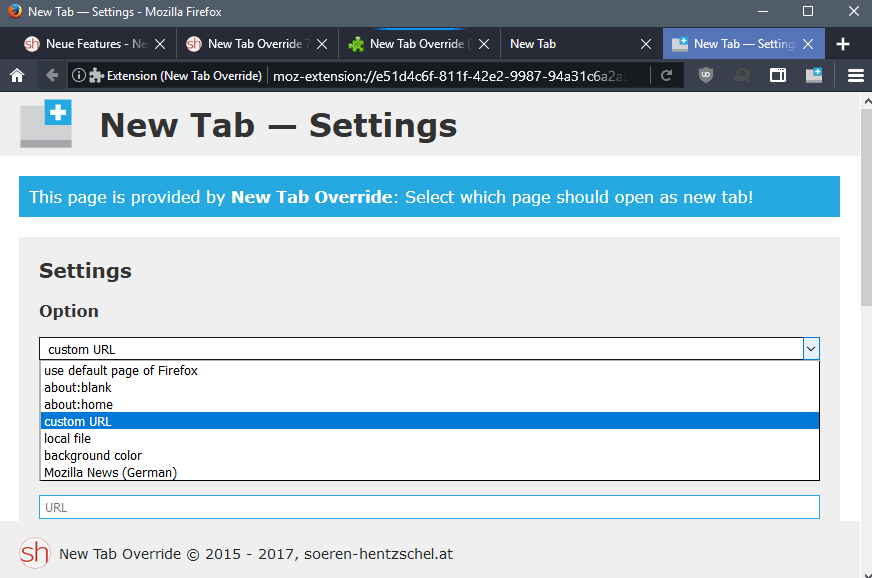 New Tab Override adds options to Firefox to customize the content of the new tab page of the browser.  Version 8.0 of the extension displays the following options to you on its configuration page:
Use default page of Firefox
Load about:blank (blank page)
Load about:home (homepage)
Load custom URL that uses HTTP or HTTPS protocol.
Local file (see below).
Background color (similar to about:blank, but with a different color).
Mozilla News (German)
Web Extension access to local files is restricted in Firefox. Sören implemented an option to load a HTML file into the New Tab Override storage to display it when the new tab page is opened.
This is a workaround, and it is necessary that any files that get loaded in the HTML file are accessible on the Internet.
An option to focus the web page that gets loaded on the new tab page and not the address bar is provided as well. This is mostly useful if you want a form field to be focused right away when the new tab page opens, for instance when you display the web page of a search engine on the page.
Sören added link validation in the WebExtension version of New Tab Override. The validation checks the entered URL to provide feedback to the user right away.
The New Tab Override's project was moved to GitHub where its source is publicly accessible. Users may leave feedback there, for instance when they encounter bugs or have suggestions for new functionality.
Closing Words
New Tab Override development continues, and that is a good thing for users of the Firefox web browser. The new version is future proof and provides the essentials to change the new tab page of the Firefox web browser to a custom one.