You are here
Resize videos for Instagram, Facebook, YouTube, Twitter online
Kapwing's Resize Video tool is an online video resizer that you may use to create optimized videos for the popular services Instagram, YouTube, Facebook and Twitter.
While you can upload any captured video directly to any of the services, doing so may cut off part of the video. The services use different video ratios, and if your video happens to be in a different one, you may end up with black bars or parts of the video that are not visible after uploading it to one of the services.
Note: The videos that you create using the service have a watermark. You may remove it my linking your Google or Facebook account to the service, and by paying money for that.
The Resize Video editor works pretty much as you would expect it to. Upload a video to the service or point it to a video URL instead. Information about supported file types or the maximum video file size is missing unfortunately. You do get an error message however when you try to upload videos that are larger than 25 Megabytes.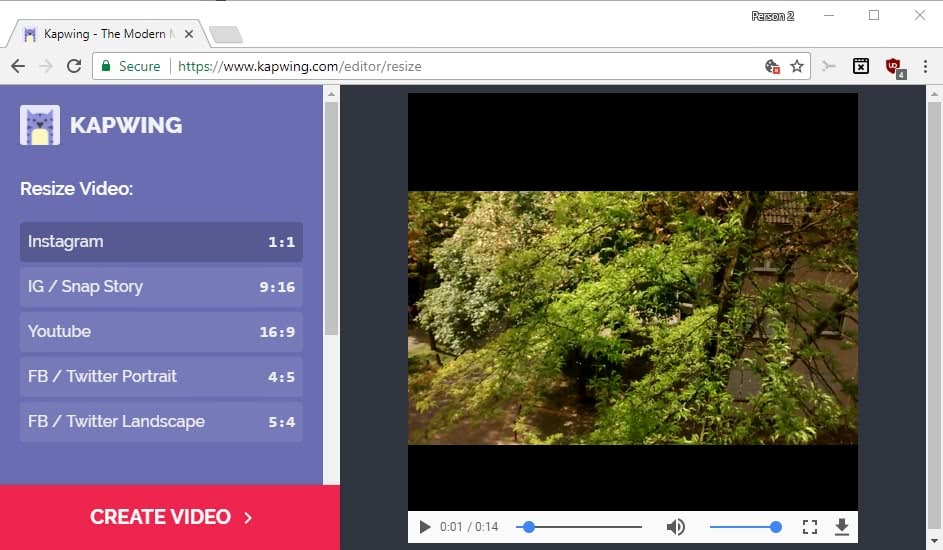 The resize editor is loaded automatically after the video has been uploaded. It lists the supported services and the ratios of these services on the left.
You can only pick one out of the following services:
Instagram -- ratio 1:1
Instagram Snap Story -- ratio 9:16
Youtube -- ratio 16:9
Facebook or Twitter Portrait -- 4:5
Facebook or Twitter Landscape -- 5:4
The preview changes automatically when you select one of the available presets. You may also switch from the default "fit" option to "crop" instead. Crop ensures that the video is without black bars, but some of it may be removed in the process.
If you keep the fit option, you may furthermore select a black or white background for the image.
Once you are satisfied with the selection, click on create video. This opens another page that highlights the processing progress in real-time. The processing itself was fast, and did not take longer than a minute for a 17 Megaybte video file.
The application displays options to download the video, or to open it directly in the browser.
Closing Words
The video resizing works really well, but Kapwing needs to work on the informational side of the service. Information such as the maximum upload size and supported file types, and that the video is watermarked, need to be visible on the starting page of the service.