You are here
Firefox 60.0 release overview
Mozilla plans to release Firefox 60 Stable and Firefox 60 ESR later today. The new version of the web browser moves the Firefox ESR channel from version 52.x to 60.x. That's a major move considering that Firefox 52.x is a pre-Firefox 57 release that still supports legacy add-ons.
Firefox 60.0 ESR does not support legacy add-ons anymore and there are other fundamental differences between 52.x and 60.x such as dropped support for Windows XP or Vista, and no support for Java or Silverlight anymore.
Work on WebExtensions APIs continues and Mozilla added or improved several APIs that Firefox add-on developers may use to create extensions.
Note: I was asked to reboot the Windows PC to complete the Firefox 60 installation. This did not happened in the past.
Executive Summary
Firefox 60.0 download and update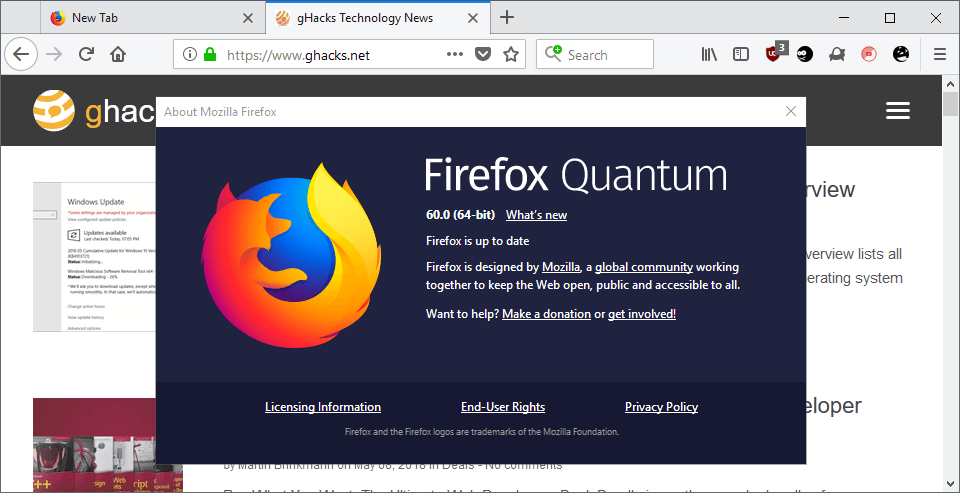 Mozilla will release Firefox 60.0, Firefox ESR 60.0 and Firefox ESR 52.8 on May 9, 2018. Most Firefox users get the update through the automatic update functionality of the web browser but downloads for all supported versions are available on Mozilla's website as well at the time of publication.
You can run a manual check for updates with a click on Menu > Help > About Firefox. Firefox runs an update check then and will download and install any new version that is returned as part of the check.
If you prefer to download Firefox manually, use the following links that point to Mozilla to do so.
Firefox 60.0 Changes
New Policy Engine for Enterprise Environments
In time for the release of the next Extended Support Release for Firefox comes a new Policy Engine that Mozilla has been working on.
Designed specifically for deployment in Enterprise environments, the new engine can be used in home environments as well for the most part.
You can download policy template files from Mozilla's GitHub website. It is likely that they will be offered on the official Firefox ESR website as well.
You can use the policies to configure Firefox automatically on deployment.
Sponsored stories for some U.S users on New Tab Page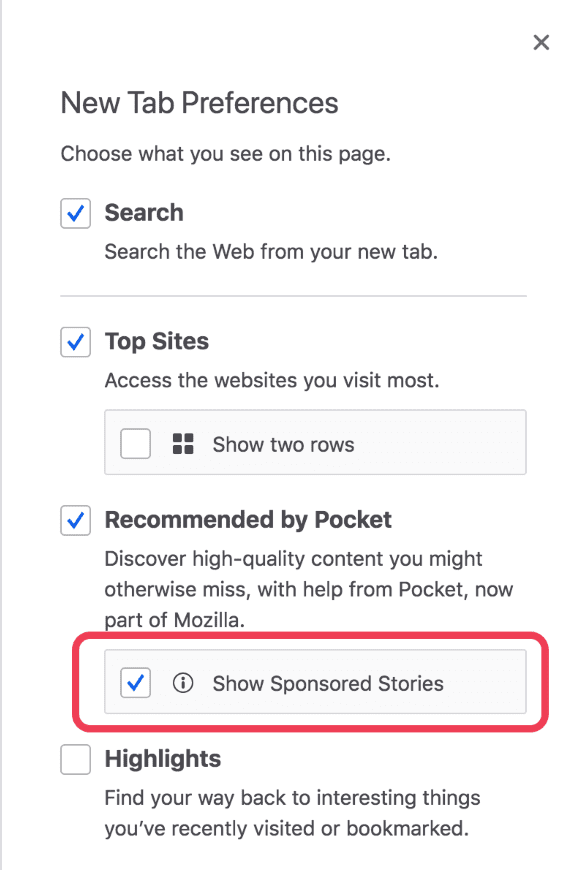 Firefox users from the United States may see sponsored stories by Pocket on the New Tab Page. Mozilla promises that no-personal data is collected and that its approach was privacy-conscious.
You can turn off sponsored stories with a click on the cogwheel icon on the New Tab Page. There you find the "show sponsored stories" option listed which you can uncheck.
Other changes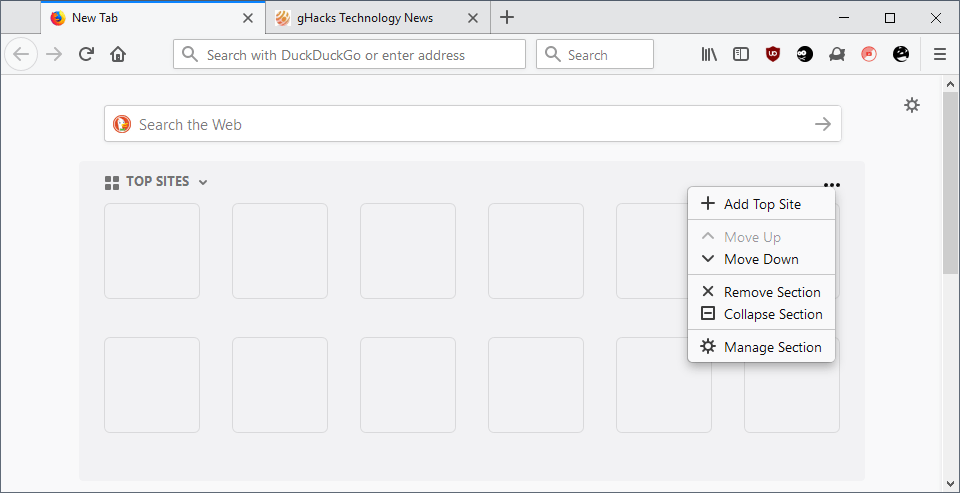 Firefox 60.0 Issues
Just one issue listed. When you disable sponsored stories on Firefox's New Tab Page, the next time you open a new tab page may still show a sponsored tile.
Developer Changes
Firefox 60.0 for Android
Firefox 60.0 for Android gets the new parallel CSS engine known as Stylo. Firefox Desktop users got Stylo with the release of Firefox 57, and Android users get it now with the new release. The new rendering engine improves page rendering time significantly.
Mozilla added a View Page Source option to the Page Action menu.
Security updates / fixes
Will be added once Mozilla releases the information.
Outlook
The next Firefox release is on June 26, 2018. Firefox Stable will move to Firefox 61, and Firefox ESR will be offered as Firefox ESR 52.9 and Firefox ESR 60.1. Firefox 52.9 is the last version of Firefox that supports the legacy add-on system and Windows XP or Windows Vista.
Additional information / sources