You are here
Avast update fixes Windows 10 version 1803 upgrade issue
Some Avast antivirus users reported a blank desktop with no icons or interface elements issue or a "boot to choose your keyboard layout" screen when they ran the upgrade from earlier versions of Windows 10 to the latest version Windows 10 version 1803 that Microsoft released on April 30, 2018.
Microsoft acknowledged the issue on May 24, 2018 on the company's consumer forum but did not link it explicitly to Avast or other antivirus or security software running on devices.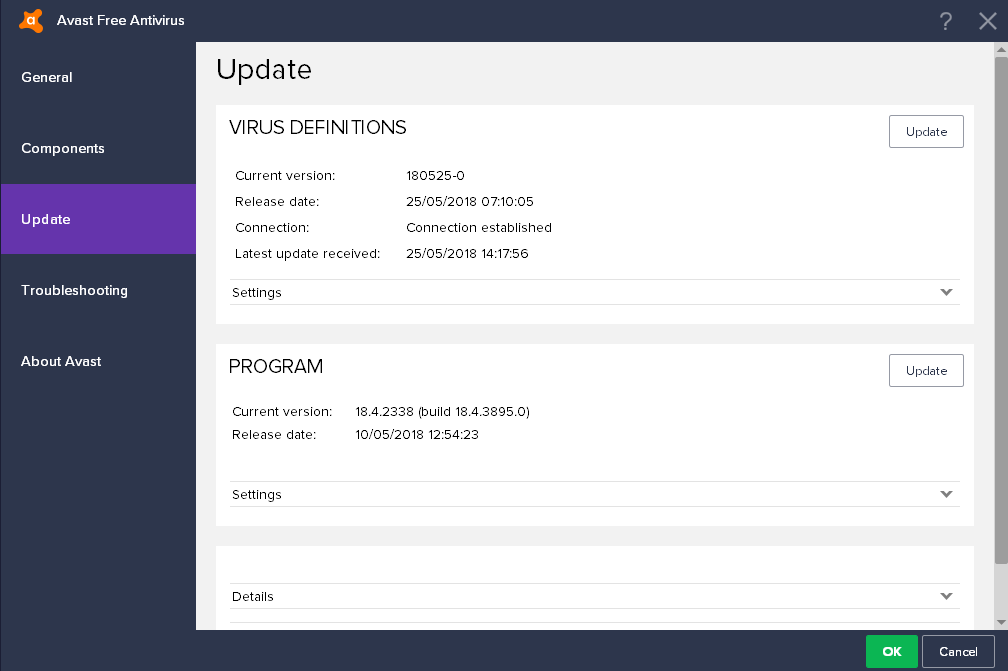 Avast published an update for affected products yesterday that resolves the issue according to the company. According to the information, the issues were caused by incompatibilities between Windows 10 version 1803 and Avast's Behavioral Shield module.
In cooperation with Microsoft we have identified an element of the latest Windows 10 1803 update that is incompatible with the Avast Behavior Shield, causing the aforementioned update to fail in some instances (related to a timing issue, Internet connectivity issue, etc).
Avast and Microsoft identified the issue which allowed Avast to fix the issue.
Luckily, we have found a way to prevent the problem and are now automatically pushing a VPS update to all customers which makes sure that the problem doesn't happen. The VPS number is 180524-08; all users running this version (or later) should be 100% safe.
Avast users who run earlier versions of Windows 10 are encouraged to update the application to the latest version before they try to upgrade the machine to the new version of Windows 10.
You can run update checks in the following way:
Open the interface of the Avast product that you are using, e.g. Avast Free Antivirus.
Select Menu > Settings.
Go to Update.
Select all update buttons on the screen, e.g. for Virus definitions and for Program.
The update should resolve any blank desktop or select keyboard layout issue that may be experienced without it.
Note: We recommend that you create a backup of the system before you run the upgrade just in case. A backup allows you to go back to the previous version of Windows without having to rely on Windows' own rollback functionality which does not work all the time. You could also uninstall Avast before you run the upgrade and reinstall the software after the upgrade completed successfully.
Avast published instructions for customers that tried the upgrade already and face a blue screen or other issues caused by the incompatibility.
Check out this post for instructions. Note that it requires that you still have access to a functioning PC as you are asked to download Windows 10 installation media which you need to resolve the issue.
Now You: where you affected by any bug recently introduced by Windows updates?