You are here
Firefox 63: Tracking Protection with Miner and Fingerprinting protection
Mozilla plans to include a new protective feature in Firefox 63; the browser's Tracking Protection feature, enabled by default only in private browsing windows, will protect users of the web browser from so-called in-browser miners and fingerprinting scripts.
JavaScript mining is a relatively new threat that Internet users face. Websites and browser extensions may embed JavaScript code to mine cryptocurrency using the system the browser is run on.
While some sites ask users about it or limit the percentage of CPU power that is assigned to mining tasks, others use all of the processing powers of the device without asking users about it first.
Mozilla launched Tracking Protection in 2014 in Firefox Nightly for the desktop and for Android. Firefox 39, released in 2015, was the first stable version of the web browser with Tracking Protection but only in private browsing mode.
Mozilla did not push the feature, however, even though tests showed that Tracking Protection could reduce page loading time by almost 50%.
Firefox 57, released in 2018, was the first version of Firefox that included GUI options to enable Tracking Protection for all sites and not just in private browsing mode.
To do so, just load about:preferences#privacy in the Firefox address bar and scroll down to the Tracking Protection section on the page. Switch it from "only in private windows" to "always.  You can add exceptions to disable the feature on select sites; useful if a site does not work properly after you enable the feature or if you want to support the site by not disabling advertisement on it.
Tracking Protection uses a blocklist provided by Disconnect; it blocked certain forms of advertising, analytics and social scripts by default. The release of Firefox 63 in October adds support for blocking crypto-mining and fingerprinting scripts to the list of protective features.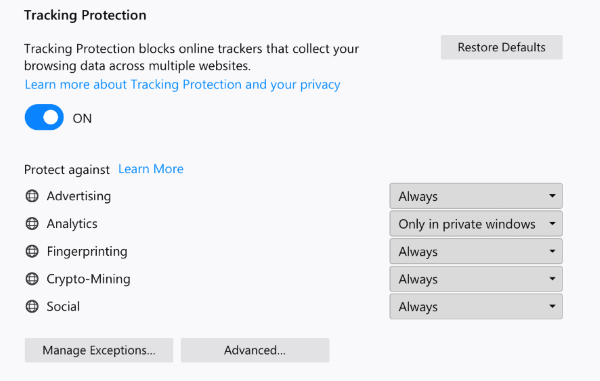 Even better, Mozilla plans to give users full control over the protective features in the options. Firefox users can manage each protection individually and set them to protect always or only in private browsing mode in the settings.
The organization wants to improve the discoverability of the Tracking Protection feature as well. While it will still be listed under Privacy in the Firefox preferences, plans are underway to add Tracking Protection switches to other parts of the Firefox user interface like the security information panel that users get when they click on the "secure" text in the address bar.
Closing Words
Mozilla did not push Tracking Protection to the center stage back in 2015 when it launched the feature; a missed chance in my opinion as it probably would have had a positive effect on the user growth of the browser.
Now, Google launched its own ad-blocking in Chrome, and while it is fairly limited when compared to Tracking Protection or content-blocking scripts, it reduces the impact that an improved Tracking Protection feature has when announced by Mozilla.
Now You: Do you use Tracking Protection in Firefox?