You are here
Microsoft pulls agents from Windows 7, 8.1 and other forums
Microsoft announced on Friday that Microsoft Community forum support will be discontinued for several company products including Windows 7 and Windows 8.1.
Microsoft's Answers Community is operated by Microsoft. It has forums for many Microsoft products and Microsoft employees a number of agents, usually third-party contractors, who interact with users who post on the forum.
While the forums are more miss than hit usually when it comes to finding help, they are certainly very popular as lots of users post there on a daily basis.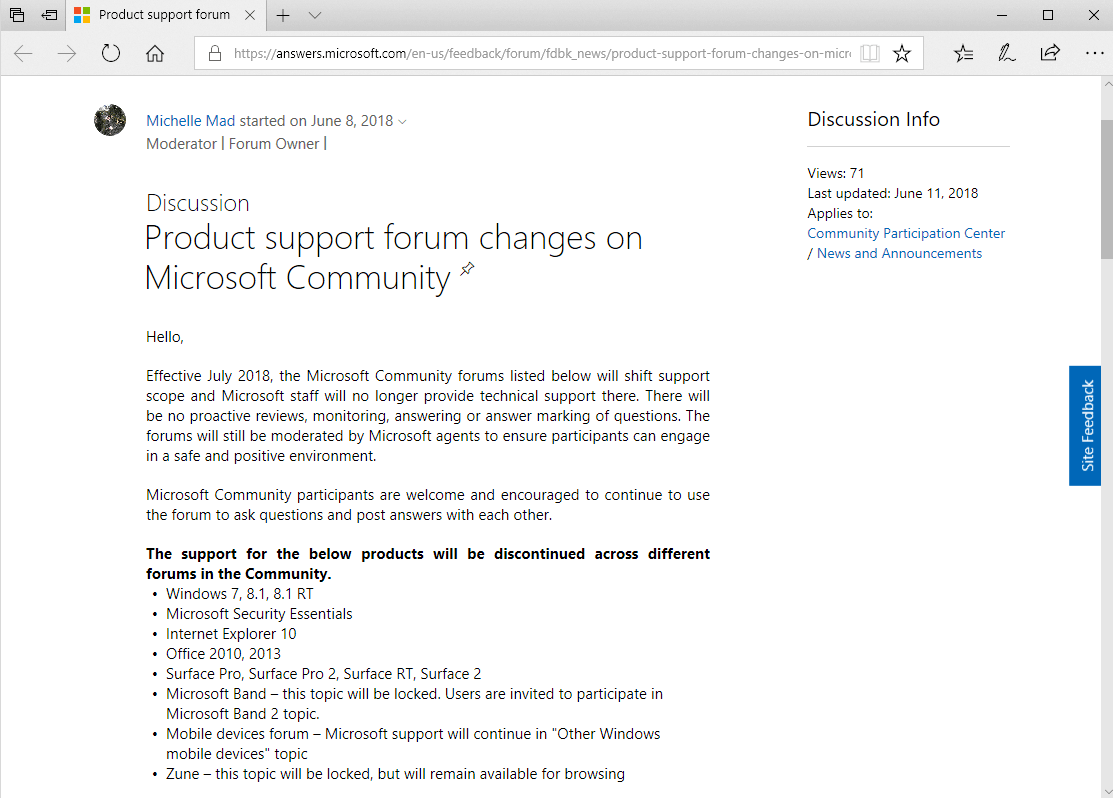 If you research a Windows or Microsoft product issue using your favorite search engine, you usually get Microsoft Answers results in the top ten listing. The quality of Microsoft Agent support is not always the best, however, as you will get copy and paste responses often at first.
Microsoft won't offer technical support anymore in the following forums starting July 2018:
Windows 7, 8.1, 8.1 RT
Microsoft Security Essentials
Internet Explorer 10
Office 2010, 2013
Surface Pro, Surface Pro 2, Surface RT, Surface 2
Microsoft Band – this topic will be locked.
Mobile devices forum – Microsoft support will continue in "Other Windows mobile devices" topic
Zune – this topic will be locked.
The forums will remain available online and community members can still use the forums to post new topics or replies (with the exception of those that are locked in July 2018). Microsoft agents will still moderate the forums to remove spam and other undesirable messages from the forums but they won't interact with users anymore when it comes to providing technical support.
The company notes that "there will be no proactive reviews, monitoring, answering or answer marking of questions".
It is interesting to note that another Microsoft support agent posted a similar announcement in the Windows 8.1 forum highlighting that Microsoft would so for products that "reached end of support".
Please be advised that effective July 2018, the forum topics for products that reached end of support will no longer receive technical support from Microsoft agents.
The products listed on that page are Windows 7, Windows 8.1 and Windows 8.1 RT; all three products are still supported (albeit in extended support).  Windows 7 exited mainstream support in 2015, Windows 8.1 in January 2018.
It is unclear if Microsoft's wording is off as Microsoft could mean "extended support" instead of just "support". Extended support includes paid support and security updates at no additional cost only, and that is what Microsoft could have meant.
Closing words
Microsoft surely has a plan for 2020 when Windows 7 support ends and it may be the case that the company plans to push users even more towards Windows 10 by ending forum support in July 2018 already.
The forum is a hit and miss for support topics, mostly miss, in my opinion. While it does offer help for some issues, users who post there got canned responses usually that most of the time did not help at all.
Now You: Do you use the Microsoft Answers forum?