You are here
Mozilla plans to push Tracking Protection in Firefox
Mozilla plans to push the built-in Tracking Protection feature of the organization's Firefox web browser in the coming releases.
Firefox will display Tracking Protection options in the browser's user interface more prominently, and Mozilla plans to rename the feature to Smart Blocking eventually as it will block other potentially unwanted content in the future as well.
The organization launched Tracking Protection in 2014 in development versions of Firefox for desktop operating systems and Android, and integrated Tracking Protection in Firefox 39 Stable for the first time in a release version of the browser but in disabled state.
Work continued on Tracking Protection and several new features landed: first the ability to select Tracking Protection lists, and then a Firefox Test Pilot experiment to gather additional date.
It took until Firefox 57 to extend Tracking Protection to all browsing and not private browsing sessions.
Tracking Protection in UI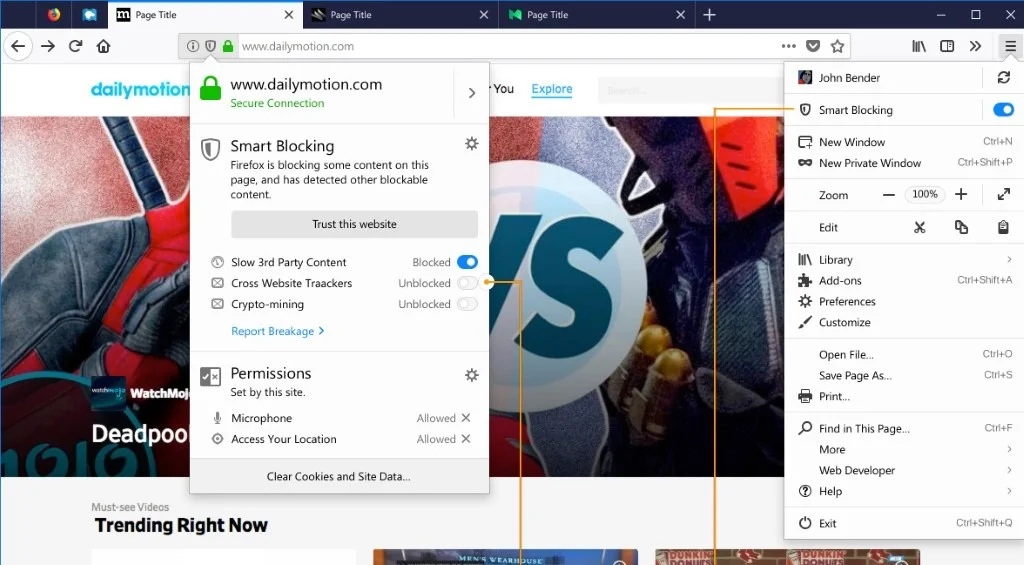 Firefox users can enable Tracking Protection under Privacy & Security on the browser's options page currently. An option to switch from the private-windows exclusive mode to always is provided, and as are options to add exceptions and change blocklists.
Mozilla will add a Tracking Protection link to the main menu of the Firefox web browser, and display Tracking Protection controls when users click on the shield icon next to the address bar as well if content on the site is blocked. Plans are underway to rename Tracking Protection to Smart Blocking eventually. Tracking Protection will also be displayed when users click on the info icon so that the feature can be turned on without having to do so in the browsing preferences.
The organization revealed recently that it plans to add more protective features to Tracking protection, namely crypto-mining and fingerprinting protections. Since some of the new blocking options have nothing to do with tracking, it was clear that the feature needed to be renamed to reflect the functionality increase.
The final stage of the rollout displays Smart Blocking controls when users click on the shield icon that Firefox displays if content is blocked. There users may enable or disable protections individually and report site breakage to Mozilla. Some sites may break if you access them with Smart Blocking enabled; you can report breakage to Mozilla and select which issue you experienced, loading issues, missing content, malfunctioning, or other, that you experienced.
Users may "trust the site" as well using the menu to add it to the whitelist.
Closing Words
Mozilla seems to be inclined to push Tracking Protection in Firefox finally. I still think that Mozilla lost a big chance back in 2015 when it did not make the protective feature a major component of the browser. Considering that Tracking Protection speed up the loading of web pages by up to 44%, it would have given Firefox a much needed boost in its fight against Chrome's dominance on the desktop.
The improved Smart Blocking feature is a welcome feature nevertheless.  Check out this bug for additional information.
Now You: Will you use Tracking Protection / Smart Blocking? If so, on its own, or with other content blockers?