You are here
It is time to opt out of Yahoo Mail email scanning
Yahoo Mail and AOL Mail, which both fly under the Oath banner, a Verizon owned company, scan emails that arrive in user inboxes to improve advertisement targeting.
An article published by The Wall Street Journal (sorry, no link as it is paywalled), suggests that Oath's email scanning may go beyond what users of the service may deem acceptable.
According to the article, Yahoo is scanning commercial emails of all free users who did not opt-out of personalized advertisement to improve targeted advertising.
Yahoo creates profiles of users by assigning them to certain groups or categories. A user who receives receipts for online purchases may be put into different categories based on the purchases, frequent traveler for example for users who get emails about several plane tickets in a period of time. Yahoo Mail users who get brokerage emails, e.g. trade confirmations, may be assigned to the investors group.
While the exact classification and profiling system is unknown, it is clear that it uses information found in emails to profile users. The system places a cookie on users systems that identifies the interest groups the Yahoo user is associated with. Companies and advertisers may use the data to serve personalized advertisement to users and the paper suggests that Oath may also use receipts in the Yahoo Mail inbox as proof to advertisers that a particular campaign worked.
Yahoo confirmed to The Wall Street Journal that it scans commercial emails only, and that the algorithms the company uses strip out personal information to make sure that those are not leaked in any way. The company claimed that the majority of emails that arrive in user inboxes are commercial in nature, and that the system is adjusted when the need arises to avoid wrong classifications and other issues.
Yahoo customers have some options to deal with the email scanning:
Close the account.
Opt-out of interested-based ads and hope for the best.
Closing an email account is problematic for a number of reasons. Users have to find another email provider, may want to back up all emails they received over the years, and may even want to keep the account open for a period to make sure no mail is lost.
Closing the account may require that users change email addresses on websites, for instance those that they signed up for using the email address.
One good option to back up all emails is the free MailStore Home software for Windows. It is capable of backing up all emails on the local system. 
The desktop email client Thunderbird is another option.
Opt-out of interest-based ads on Yahoo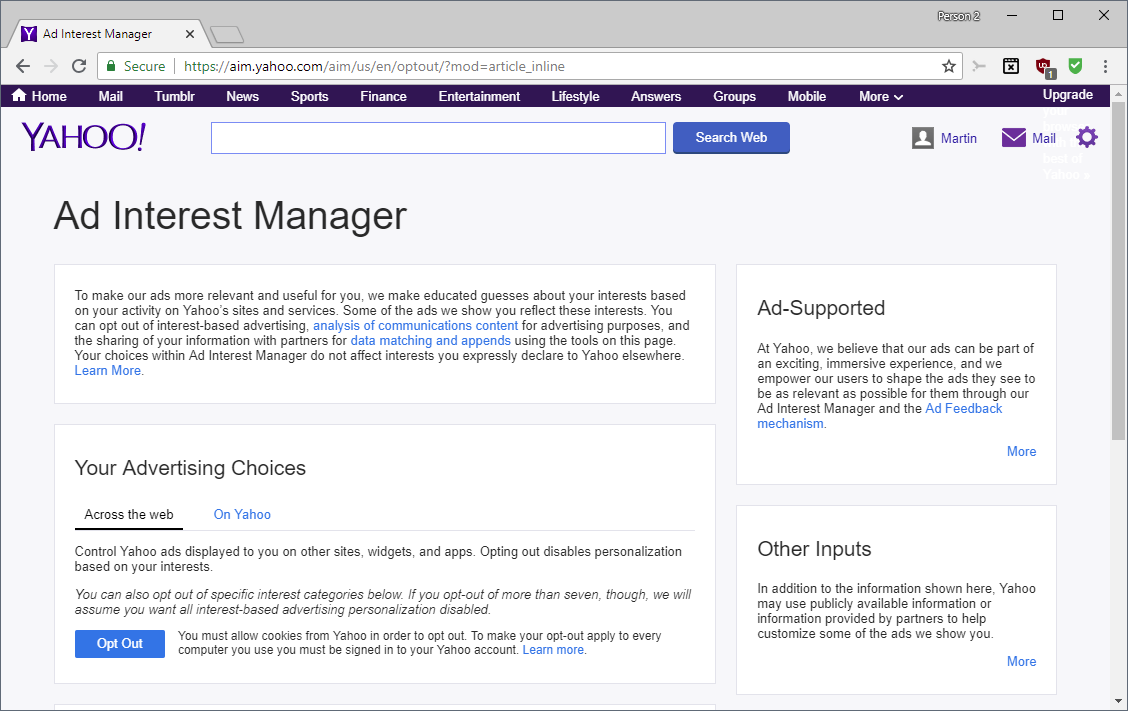 Yahoo customers can opt-out of interest-based ads. Yahoo notes on the page that opting-out will stop the analysis of communication content for advertising purposes among other things.
You can opt out of interest-based advertising, analysis of communications content for advertising purposes, and the sharing of your information with partners for data matching and appends using the tools on this page.
Perform the following steps to opt-out.
Visit The Ad Internet Manager page on the Yahoo website.
Click on the opt-out button to opt-out of interest-based ads and thus also the analysis of communication content for advertising purposes. The button should change to a "opt-in" button after the request has been processed.
Switch to "On Yahoo", and opt-out there as well. Note that the use of ad-blockers or content-blockers may prevent the opt-out from working correctly.
Closing Words
I don't know how good Yahoo's algorithms are to distinguish between commercial emails and others; the past has shown that it is tricky to get it right.
Yahoo customers who use email may want to opt-out of the automated scanning to avoid any issues related to the scanning; some may want to create new email accounts at providers that don't scan emails or put privacy first. Examples of such providers are Startmail or ProtonMail.
Now You: Would you use email providers that scan your emails for commercial purposes?