You are here
Affinity Publisher desktop publishing app Beta launches
England-based Serif Ltd. released the first beta version of Affinity Publisher, a desktop publishing application for Windows and Mac OS X operating systems.
Affinity Publisher is a desktop publishing app that Serif tries to establish as a competitor to Adobe InDesign or Quark Desktop Publishing.
The beta version of the application is free to download and try. Please note that it is required that you create an account on the site before you can download the program to the computer. Accounts require an email address, name, and password, and it is necessary that the email address is verified as downloads are only unlocked after verification.
The final version of Affinity Publisher is months away according to Serif. Since it is beta, users should expect bugs and areas that are not fully polished yet. Users are encouraged to provide feedback and feature suggestions, and the company plans to integrate Publisher with the established Affinity applications Photo and Designer.
Affinity Publisher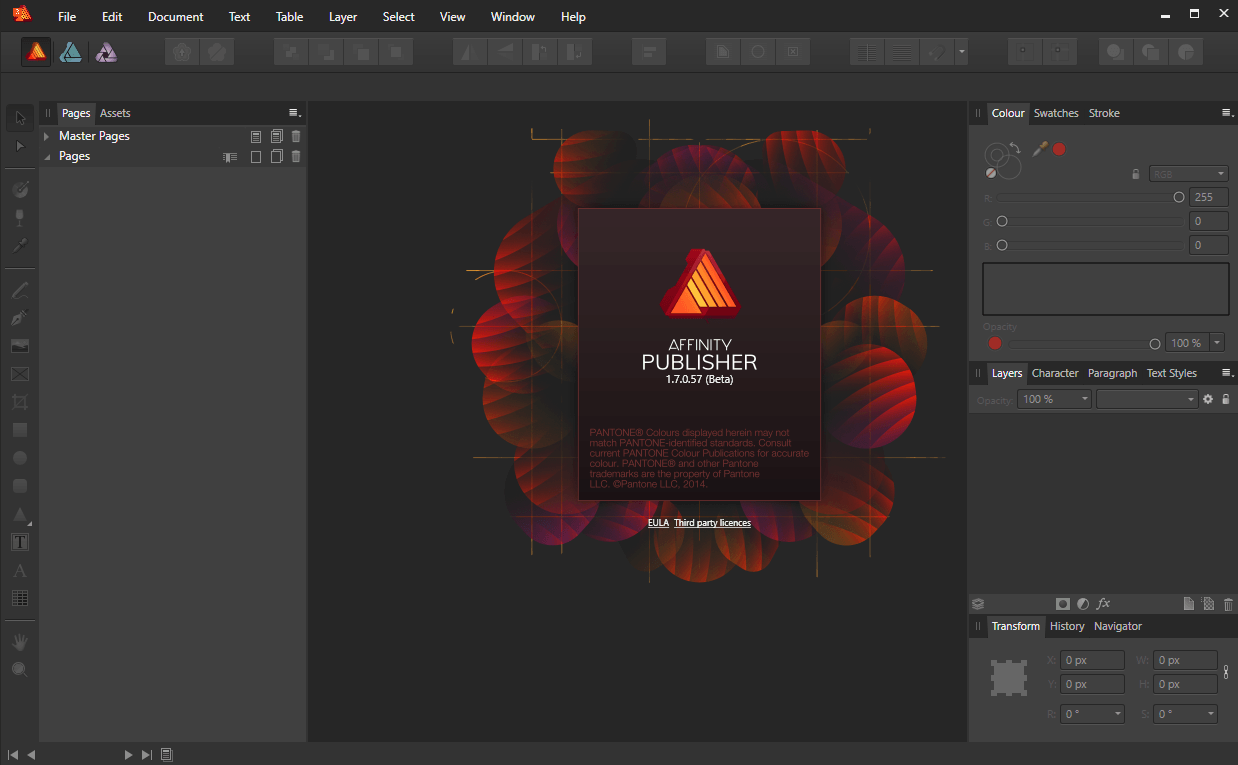 The program has a size of about 270 Megabytes when you download it from the company website. It attempts to connect to a company IP address during setup; it is unclear what the connection does but it is not required for installation.
The program tries to connect to an IP address that is assigned to Serif on launch as well. Functionality does not seem to be impacted if you block all connection attempts.
While desktop publishing veterans may feel right at home when they launch the program for the first time, others may need an introduction or tutorial.
Serif published a series of tutorials on the company website that new users may find useful. Topics covered so far include styling text, placing images, an UI overview, document setup, or working with tables. The developer promises that new tutorials will be added in the coming weeks and months.
The program does not support Adobe InDesign projects at the time but import functionality is planned for future releases. In fact, users may notice that supported file types for imports are quite limited at this point in time. While PDF is supported, Microsoft Word or Excel are not among others.
Here is the teaser video of Affinity Publisher that Serif published.
A good place to get answers for questions that you may have is the official company forum.
The final version of Affinity Publisher will be a commercial program. The company's two other programs are both available for €54.99 for Windows (no subscription). It is likely that Affinity Publisher will be offered for the same price.
Closing Words
I have to admit that I cannot say much about the functionality that Affinity Publisher offers and how it compares to InDesign or Quark. Users who are interested in desktop publishing may check out the free beta version to find out about that. If you do, feel free to leave a comment below to share your experience.