You are here
WhatsApp backups are not encrypted
WhatsApp backups created by the built-in backup option of the messaging client on Android are not encrypted when they are stored on Google Drive.
WhatsApp users on Android can enable the application's automatic backup functionality to store backups on the device itself or upload backups to Google's Google Drive web storage service.
Backups are useful as they can be used to restore data on the device they were created on initially but also on new devices of the user so that media and messages become available on the new device as well.
While remote backups are quite useful when it comes to switching to a new device or installing WhatsApp anew on a reset device, WhatsApp users need to be aware that remote backups are not stored in encrypted form on Google Drive.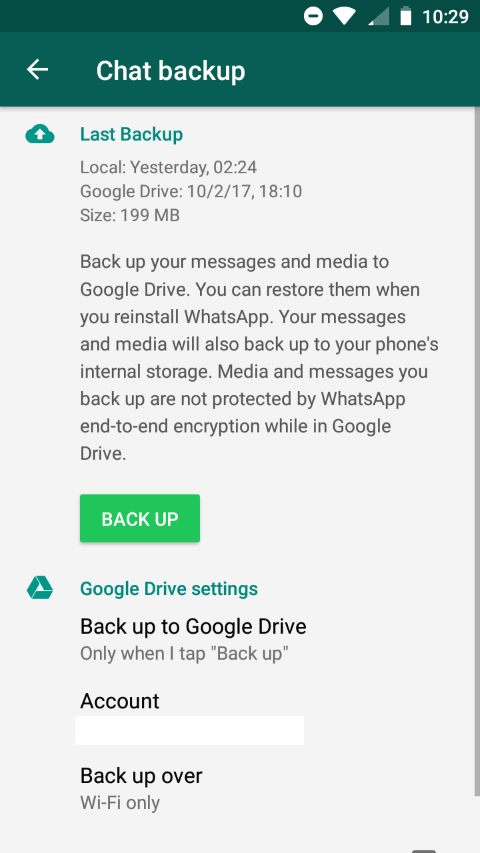 In other words: anyone with access may access the entire message and media history using the backup. If you want to make sure that your media and messages are secure, you should not use the application's remote backup feature.
WhatsApp highlights this in the application itself and on a FAQ page on the official company website.
Important: Media and messages you back up aren't protected by WhatsApp end-to-end encryption while in Google Drive.
WhatsApp users on Android can verify the backup settings in the following way:
Open WhatsApp on the Android device.
Select Menu > Settings.
Open Chats > Chat Backup.
The page lists date and time of the last local backup and Google Drive backup if applicable. You can check the Google Drive settings to change WhatsApp's remote backup options.
A tap on Back up to Google Drive displays options to set the feature to never or to "only when I tap "Back up".
You can't delete existing backups from within the WhatsApp application, however. You need to delete the backup on Google Drive.
Visit https://drive.google.com/ on your Android device or, better, on a desktop computer.
Sign-in to your Google Account if you have not already.
If you use the mobile version, select Menu > Desktop Version to switch to the desktop version as you can't manage the data on the mobile version.
Select Menu > Settings.
Switch to Manage Apps to list all applications connected to Google Drive.
Select Options next to WhatsApp Manager and there "Delete hidden app data".
Google Drive displays a prompt to verify that you want to delete the data. Select "Delete" to continue with the deletion.
You can use the local backup to restore WhatsApp data on a new device but need to copy the backup to the new device to do so.
Now You: Do you store WhatsApp data or other data on remote servers?