You are here
Enable the dark theme in the Android YouTube app
Google began to roll out dark theme support for the company's YouTube application for the Android operating system yesterday.
The company started tests months ago but only a select few Android users got options back then to enable a dark theme in the official YouTube app for Android.
While the majority of users probably don't care about dark theme support in general, a vocal group of users does. Considering that YouTube's app on Android is used by hundreds of millions of users, it is fair to say that the group is particularly large on Android.
Google rollouts tend to be spread over the course of weeks if not months. Android users who run version 13.35.51 of the YouTube app on Android already can toggle between dark theme and the default light theme already.
Users who are still on earlier versions of Android have only two choices: wait until the update lands on the Android device or head over to a mirror site for APK files to install the update right away.
Tip: You can check the version of the installed YouTube application by selecting Profile > Settings > About. Check App Version on the page that opens.
It is still difficult and not super-obvious how to sign out of the YouTube app on Android.
Enable the YouTube dark theme on Android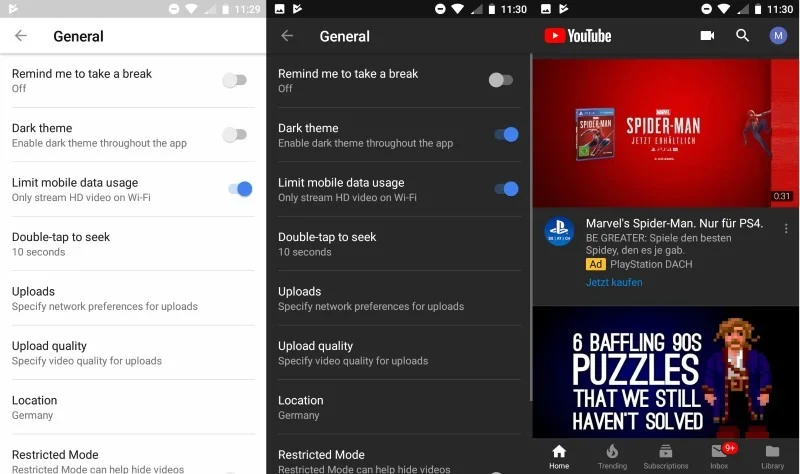 It is easy enough to toggle between a light and dark theme on YouTube provided that YouTube 13.35.51 or newer is installed on the device.
Tap on the profile icon in the YouTube interface.
Select Settings from the list that is displayed.
Select General on the main Settings page.
There you should see the Dark Theme listing. Just toggle it with a tap to switch between dark and light theme on YouTube.
Changes take effect immediately so that you know right away whether a dark or light theme is activate in the official YouTube app.
You can undo the change at any time by repeating the steps listed above.
YouTube's interface changes lighter colors to dark gray when you activate the dark theme. The font color is a lighter gray and most icons display in gray as well in the app.
The dark theme is activate everywhere in the app after you enable it: in the settings, when you browse video listings, or when you watch individual videos.
Tip: you can enable a dark theme on YouTube on the desktop as well.
Closing Words
Users who prefer darker themes get what they want with the latest update. While it may take weeks before the change lands on all Android devices that YouTube is installed on, the feature will land eventually on all supported devices.
Now You: Do you prefer light or dark themes?