You are here
Winamp 5.8 Beta leak appears on the Web
A beta version of the upcoming Winamp 5.8 media player found its way to the darker side of the Web where it is now being distributed heavily.
Winamp, which was once a very popular media player for Microsoft Windows devices and is still used by die-hard fans up to this day, has had a rough patch in recent years.
AOL, the then-owner of Winamp, announced in 2013 that it would shut down the service and the Internet Radio directory Shoutcast.  The company sold Winamp in a turn of events later that year to Radionomy, owners of a platform to create, discover, and listen-to online radio stations.
While that meant that Winamp was saved for the moment, it did not really improve the situation otherwise; new Winamp versions were not released and while developers did mention here and there that a new version was in the works, nothing came out of it in the almost 5 years after Radionomy's acquisition of Winamp.
A Winamp developer revealed in 2016 that work was underway on Winamp 5.8 but that the team did not want to release the beta version at the time because it would lack quite a bit of functionality. A forum post on the official Winamp forum listed the changes of the beta version.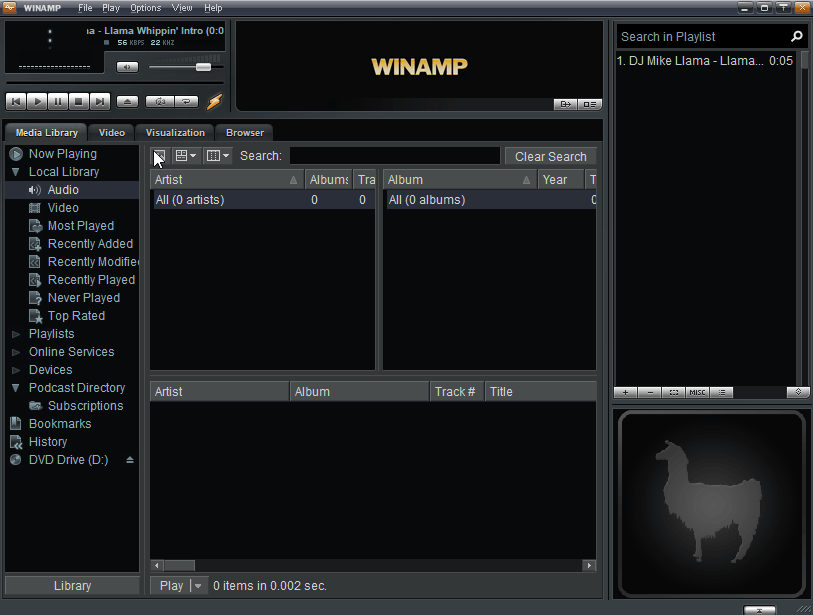 Neowin reported today that a beta version of Winamp 5.8 leaked on the Web. It appears to the the "real deal" but a version from October 2016. It is certainly not something that you would install on a production machine or on anything really that is outside of a sandbox or virtual environment.
Select Help > About Winamp to check the version of the player. There you find listed the version and the release date of the build (which is October 2016).
A scan on Virustotal returns three hits out of 62 different engines; likely false positives. The beta version comes with quite a few important changes including the following ones:
Winamp 5.8 is fully compatible with Windows 10 and Windows 8.1
Minimum required operating system is Windows XP Service Pack 3.
All Pro license features have been removed.
Replaced proprietary decoders for mp3, aac, H.264 and Mpeg-4 with open source or free to use decoders.
DRM support removed.
CD ripping and playback uses Winodws API.
Windows Audio (WASAPI) support.
Shared DLL files are stored in Winamp\Shared.
MP3 Encoder must be downloaded manually.
Added an option to disable video support completely.
Closing Words and verdict
Considering that the build is from October 2016, it is clear that development is progressing at a snail-speed pace. Whether Winamp 5.8 Final will ever be released is up for debate; what is clear is that lots of users seem to be interested in Winamp despite it being more dead than alive for a long time.
It will be tough for the player to compete with regularly updated audio players such as AIMP, MusicBee, or the classic foobar2000.
Now You: Would you switch back to Winamp?