Microsoft updated the growing list of known issues with Windows 10 version 1809, the October 2018 Update, on November 21, 2018.
A new entry highlights that Microsoft blocks the upgrade to the new feature update on devices with certain Intel display drivers.
The company notes that the issue is not Microsoft's fault this time. Intel, according to Microsoft, released driver versions to OEMs that "accidentally turned on unsupported features in Windows".
Windows 10 version 1809, Windows Server 2019, and Windows Server, version 1809 are affected by the issue; means, it affects client and server versions of the Windows operating system.
Microsoft does not provide additional details on the nature of these unsupported features. Users who upgrade their devices to Windows 10 version 1809 with these display drivers installed may experience audio playback issues afterward.
Microsoft has identified issues with certain, new Intel display drivers. Intel inadvertently released versions of its display driver (versions 24.20.100.6344, 24.20.100.6345) to OEMs that accidentally turned on unsupported features in Windows.

After updating to Windows 10, version 1809, audio playback from a monitor or television connected to a PC via HDMI, USB-C, or a DisplayPort may not function correctly on devices with these drivers.
Microsoft blocks devices with these drivers from upgrading to Windows 10 version 1809.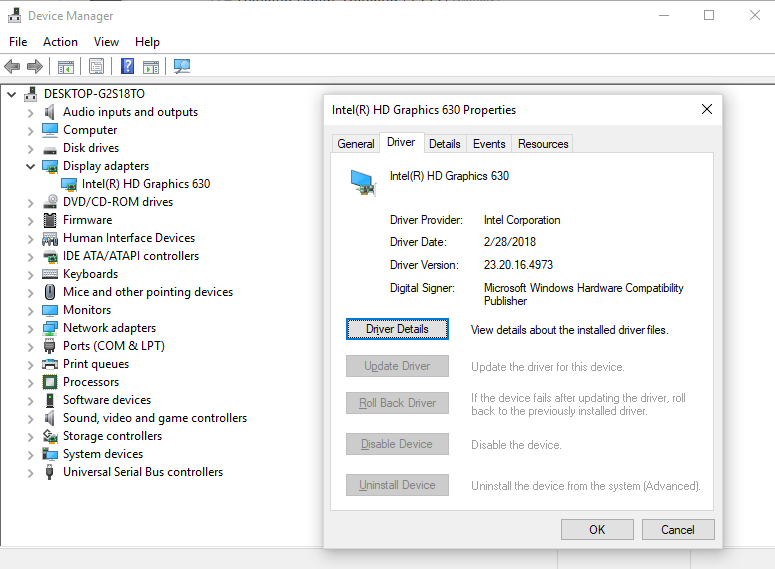 Administrators and users can verify the installed driver version in the following way:
Open the Device Manager on the PC, e.g. by using Windows-R to display the run box, typing devmgmt.msc and hitting Enter. Note that you can open it without elevated rights but will receive a notification when you do.
Expand Display Adapters.
Right-click on the Intel HD Graphics adapter and select Properties from the context menu.
Switch to the drivers tab.
Check the Driver Version on the page that opens.
Versions 24.20.100.6344 and 24.20.100.6345 are blocked according to Microsoft.
Intel's most recent display driver for Windows 10 is version 25.20.100.6373; it is unclear if it resolves the issue or is affected as well. Microsoft does not list it as a potential workaround to resolve the issue on the client side. (thanks Deskmodder)
Update: I installed the latest driver and started the update to Windows 10 version 1809 using the Update Assistant. Upgrade to Windows 10 version 1809 went through without issues.
Microsoft is working with Intel to resolve the issue. The display driver issue, even though it is affecting audio playback, is different from the Intel Smart Sound Technology driver issue reported earlier.
The issue has been reported by Born City and GeekLatest as well.