You are here
Surprise! Microsoft plans to make Microsoft 365 available to consumers
Job postings on Microsoft's Career website suggest that the company is planning to release a consumer version of Microsoft 365 in the future.
Microsoft 365 is a subscription-based software and service bundle that is only available to business customers at the time of writing. Microsoft launched it in 2017 and added more packages to it later that year.
It comes in several packages and includes Office 365 and Windows 10; bundles include different editions of Office 365 or Windows 10.
Microsoft 365 Enterprise for example includes Office 365 Enterprise, Windows 10 Enterprise, and Enterprise Mobile + Security.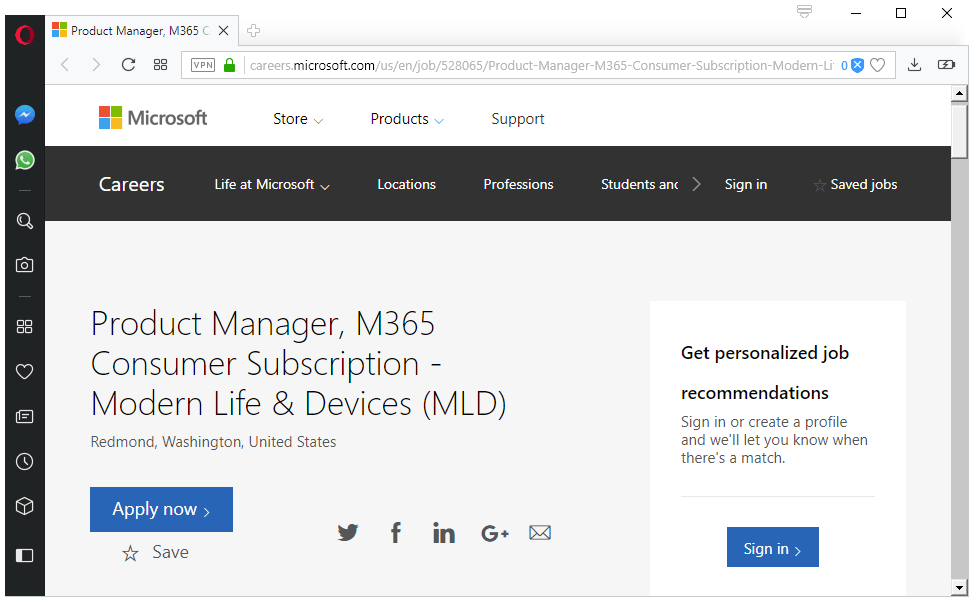 The job posting confirms that Microsoft plans to make Microsoft 365 subscriptions available to consumers.
Do you want to work with engineering and outbound marketing to help us identify, build, position, and market a great new Microsoft 365 Consumer Subscription?
The job description reveals little about the actual plan or plans that will become available. Mary Jo Foley suggests that bundles will include consumer editions of Office 365 and Windows 10, and also access to other Microsoft products and services such as Skype.
It is quite possible that Microsoft will launch multiple subscription bundles for consumers. Microsoft 365 Home could be a cheaper version that includes Windows 10 Home and Office 365 Personal while Microsoft 365 Pro could include Windows 10 Pro and Office 365 Home.
What about price? The price for a bundle will be more expensive than the price of a single Office 365 subscription but cheaper than the cheapest Business Microsoft 365 plan. In other words, more than $6.99 per month and less than $20 per month.
Microsoft 365 for Consumers will be an option at this point in time and not a requirement. With Windows 10 often included in PC purchases, and also available free of charge -- still -- for users with genuine Windows 7 or Windows 8.1 product keys, it is probably only of interest to a limited audience if sold separately.
Microsoft could link subscriptions to devices, e.g. new Surface devices and make them an option there only to test consumer interest.
Computer users who want Office and Windows have several options to get these programs: purchase licenses separately, buy Windows from Microsoft and get a Office 365 subscription, buy licenses on marketplaces like eBay for a fraction of the cost. The new Microsoft 365 for consumers, if it launches, will add another option to that.
Closing Words
I'm not a fan of subscriptions, especially when it comes to software programs. While they do offer advantages, like automatic updates to newer versions, they work only for as long as you pay the fee.
Microsoft is certainly pushing subscription-based services; eventually, the company will stop offering standalone versions of its products.
Now You: What is your take on Microsoft 365 for consumers?