You are here
Thunderbird 60.5.2 has been released
The desktop email client Thunderbird has been updated to version 60.5.2 on February 25, 2019. The new Thunderbird 60.5.2 comes as an update for all previous versions of the software.
Thunderbird 60.5.2 fixes a crash issue and a certificate verification issue with Outlook emails.
Thunderbird displays an "update available" notification when you start it by default if a new version is available. You may use it to download and install the new version right away.
You may also select Help > About Thunderbird to manually start the process and verify the installed version of the email client.
Thunderbird users who prefer to download the new version manually instead can do so on the official project website.
Thunderbird 60.5.2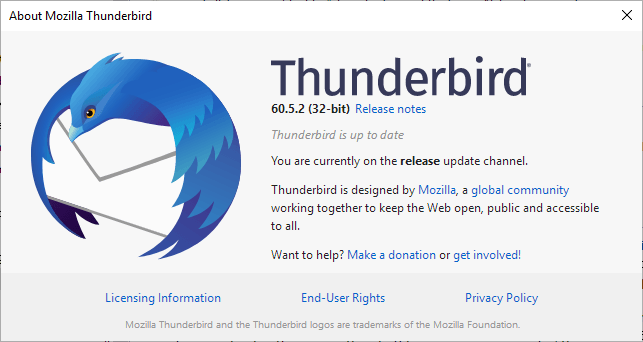 Thunderbird 60.5.2 is a bug fix release that addresses several issues, including one crash issue, in previous versions of the email client.
The new version has been available since February 25th, but the release notes were not available at that time. The official changelog lists three issues that have been fixed in Thunderbird 60.5.2.
The team fixed a crash issue in Thunderbird on Windows. Thunderbird could crash when users selected Send To > Mail Recipient in Thunderbird on Windows.
UTF-8 support was added to MAPISendMail.
A fix for S/MIME certification verification when receiving email from Outlook. The issue was introduced in Thunderbird 60.5.1 and has been resolved fully in the new version.
The changelog lists two known issues; these are not new, as they have been introduced in previous versions of the email client. Thunderbird 60.5.0 had the same issues.
Twitter chat is not working due to Twitter API changes.
Profiles stored on Windows network shares are addressed via UNC.
Thunderbird 60.5.1
Thunderbird 60.5.1 was released on February 14, 2019. It is a release that fixes security issues and fixes CalDav support for some servers. The changes of that release are incorporated in Thunderbird 60.5.2.
Now You: Which email client do you use currently?