MySpace, the once largest and most popular social networking site on the Internet, was used by many in the early days of the Internet for music hosting.
Users of MySpace could upload music to the service. Things changed, MySpace, while still around, is a shadow of its former self as it was replaced by Facebook and other social networking services.
Music that users uploaded to MySpace was still available on the site until recently. The company migrated servers recently and lost access to all songs as well as photos and videos uploaded to the site prior to 2015.
MySpace did not have backups, apparently, so that recovery was not an option. Enter the Internet Archive.
The Internet Archive got its hands on part of the uploaded MySpace music archive and uploaded it in its entirety to the Archive. The archive has a size of about 1.3 Terabytes, a vast collection of 490,000 mp3 songs that MySpace users uploaded to the networking service between 2008 and 2010.
Interested users can browse the entire archive on the Archive.org website. The MySpace Dragon Hoard can also be downloaded directly or as a torrent file.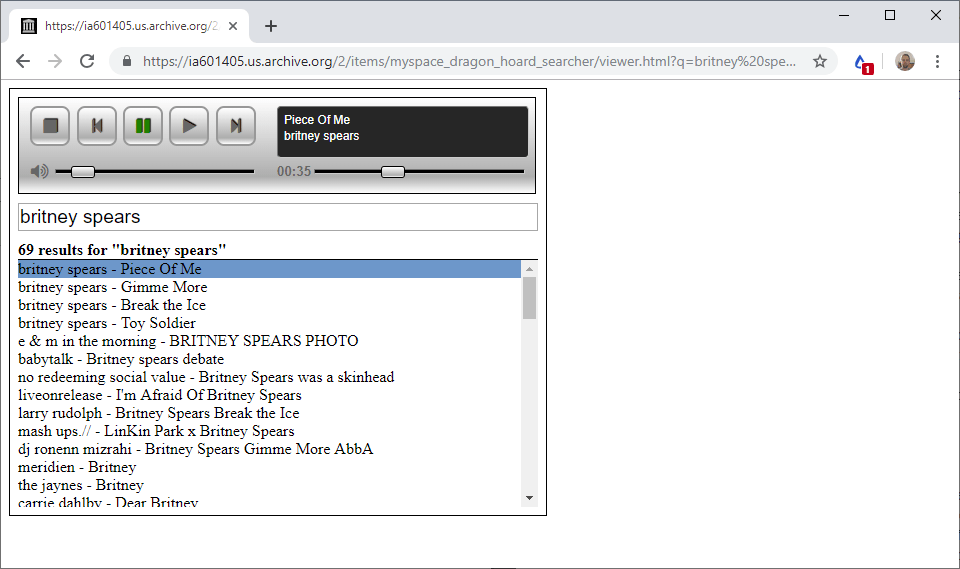 Browsing the 144 zip archives directly won't reveal information about the artist or song name, however. You get long lists of cryptic file names only when you do so. There is a metadata file that provides information but linking it to the actual files in the archive is cumbersome and probably best left to automation.
A tool has been created, called Hobbit which acts as a music player and search tool to find songs of interest. You may use it to search the archive to find out if certain songs are included in the archive.
Just load the Hobbit in a browser and type a song name or artist name to get all matching songs returned to you. The first search will take a moment but subsequent searches are quick and painless.
You can play any song found directly in the interface. The player does not support mp3 downloads and there is no link between the found songs and the archived files. Some of the songs, especially those by commercial bands and artists, are just clips and not the entire song.
The archive is useful for MySpace users who lost songs that they uploaded between 2008 and 2010 provided that they can remember title or artist. Everyone else may play songs using the online music player or download the archive.
The Internet Archive hosts a treasure trove of content that is no longer available on the Internet or elsewhere. You find Winamp Skins, arcade games, classic computer and game magazines, as well as classic DOS games, C-64 games and other games on the site.
Now You: Did you use MySpace back in the days?