Malwarebytes users who upgraded machines to Windows 10 version 1903 may have noticed that Windows Defender got deactivated after the upgrade automatically.
Malwarebytes is a popular security solution for Windows that played nice with other installed security solutions up until that update. Many used it as a second line of defense next to Windows Defender or another resident antivirus solution.
The approach is different to that by other antivirus solutions; these disable other security software, like Windows Defender, when they are installed on the computer system.
Günter Born published an analysis of the issue on this blog last week. The issue seems to affect Windows 10 version 1903, the most recent version of Windows 10, only. Users noticed that the Windows Defender entry in File Explorer was not there anymore, or that Windows Defender would show up as disabled when they launched Windows Security.
It appears that Malwarebytes registered as the installed antivirus solution and that Windows Defender was disabled as a consequence on the system.
A solution to change Malwarebytes behavior was suggested in early June. Malwarebytes includes  Windows Action Center setting that determines if Malwarebytes registers with Windows Action Center.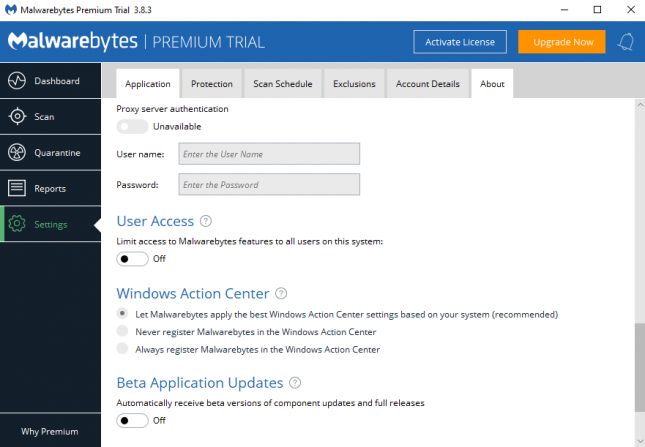 Malwarebytes released an update on Thursday that addresses the issue. According to the release notes, Malwarebytes would register with Windows Security on Windows 10 version 1903 erroneously. The update to Malwarebytes 3.8.3 addresses the issue and fixes it for affected users.
The company tested the update in the beta channel before it was released to the stable channel.
The update is already available; installed copies of Malwarebytes should receive it automatically but it is also available as a download on the Malwarebytes website for direct installation. A click on the updates option in the Malwarebytes interface runs a check for updates as well so that the update can be installed directly on affected systems.
Malwarebytes launched a completely redesigned version of the software in 2016 that it called Malwarebytes 3.0 (previously, it was called Malwarebytes Anti-Malware).  Users experienced a handful of issues with the new version such as the blocking of legitimate processes, memory and stability issues, or high RAM and CPU usage.
Closing Words
Malwarebytes customers who are affected by the issue may want to upgrade the software to the latest version to resolve the issue. The update to Malwarebytes 3.8.3 fixes a number of additional issues including one that would prevent the blocking or unblocking of blacklisted or whitelisted URLs until the machine was rebooted.
Now You: Which security programs do you use, and why?