Norwegian company Vivaldi Technologies released a new version of the company's Vivaldi web browser on September 20, 2019 to the public.
Vivaldi 2.8 is an update for the desktop web browser that improves the browser's synchronization functionality to better support the recently released Android version of Vivaldi.
Vivaldi released the first Android version in September 2019 as a beta app with some handy features such as the improved tab switching interface or note taking functionality.
The mobile browser was a much requested feature by the Vivaldi community. Sync has been built-into the mobile browser from the get-go to synchronize data between different devices.
Vivaldi users may sync data between multiple Android devices but also between desktop and Android devices to ensure that their personal data is always available regardless of device they are using.
Vivaldi 2.8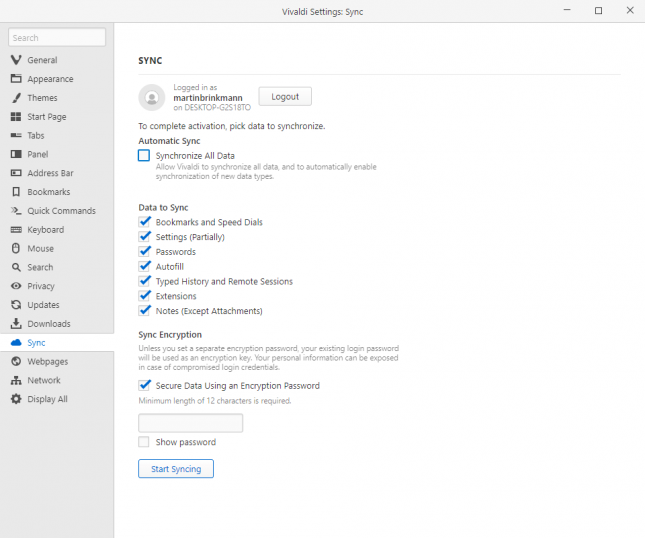 Vivaldi Technologies highlights synchronization improvements as the main new feature in Vivaldi 2.8.
With Vivaldi's new version on desktop, users can expect improvements across the board while navigating on their devices. Users can now take Vivaldi – and their Bookmarks and Speed Dials, saved passwords and autofill information, History (with only typed URLs) and uniquely Notes – everywhere.
Users can sign-up for a free Vivaldi account to use the sync functionality. All it takes then is to sign-in under Vivaldi Menu > Settings > Sync to synchronize data between devices.
Tip: you get a Vivaldi email account when you sign-up for an account. While there is little information on the promised email client at this point, it is still probable that Vivaldi will introduce it in the future (similar to how classic Opera featured a built-in email client).
Vivaldi 2.8 features additional improvements; engineers resolved several bugs and issues and "polished" some rough edges. The company notes that Vivaldi 2.8 should feel a lot "snappier and efficient". The entire changelog is listed on the official Vivaldi Blog post.
The Chromium version that Vivaldi is based on was upgraded to version 77.0.3865.78.
Closing Words
Making sure that sync works fine and without any issues is one of the most important steps after the release of the first Android version of Vivaldi. Vivaldi users may sync some or all browsing data between devices to have access to the data on desktop and mobile Android devices.
Next milestone is the release of a stable version of Vivaldi for Android.
Now You: Have you used Vivaldi recently?