The developers of the email client Thunderbird have released Thunderbird 68.7.0 to the public. The update for the stable 68.x branch of the email client is a maintenance update for the most part that resolves more than a dozen issues in the email client and improves MailExtensions support in the client. Additionally, it fixes security issues.
Thunderbird installations that are already on Thunderbird 68.x will be upgraded to the new version automatically. Users may run a manual check for updates to get the update asap may select Help > About Thunderbird to get it downloaded and installed at that point.
Thunderbird installations that are still on previous main versions won't be upgraded to Thunderbird 68.x automatically unless Lightning is installed.
Thunderbird 68.7.0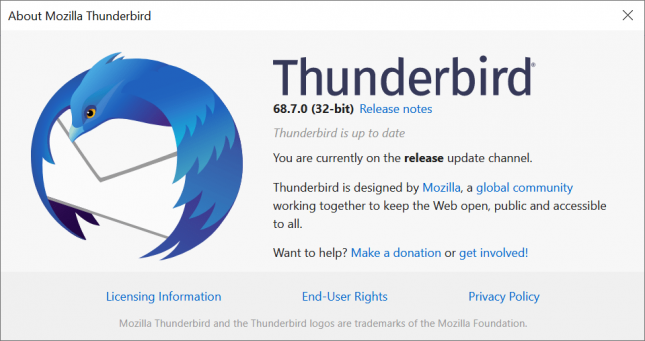 The team continues to enhance MailExtensions support in the Thunderbird email clients. Thunderbird, which is based on Firefox, is undergoing the same architectural changes as the Firefox browser. The move has implications on extensions support and one of the main changes is that the next major version of Thunderbird, Thunderbird 74, will only support MailExtensions (similarly to WebExtensions in Firefox).
MailExtensions are based on WebExtension technology but designed specifically for email scenarios. Thunderbird supports some WebExtensions APIs on top of that but core functionality for add-on developers is provided by MailExtensions APIs.
In Thunderbird 68.7.0, MailExtensions now support RAW message source and to make messages as junk/not junk.
The maintenance release fixes the following issues in the email client besides that:
Exchange server account setup improvements.
Fixed threads collapsing when opening news messages in a new window.
Fixed add-ons not being updated automatically to new (compatible) versions after the upgrade from Thunderbird 60.x.
Made the extra recipients panel keyboard accessible.
Fixed status bar not being detectable by screen readers.
Fixed a WebExtensions permissions issue when querying by folder name.
Two Calendar fixes: cancelled events did not show with a strike-through and invitations with embedded null bytes did not always decoded correctly.
The two security issues fixed in Firefox appear to be the same issues that Mozilla fixed in the Firefox 75.0 web browser release.
You can check out the entire release notes of Thunderbird 68.7.0 here.