Microsoft released a new preview build of Windows 10 to the Insider channel on July 1, 2020. The new build features the previously announced redesign of the Windows 10 Start menu.
The new Start menu is theme-aware according to Microsoft. Windows 10 testers may notice several changes after the device has been upgraded to the latest build.
One of the main changes is that Microsoft changed the solid-color background to a semi-transparent background in the new Start menu; this means that you won't see all sorts of tile background colors anymore in the Start menu but a single background color for all tiles that matches the background of the Start menu.
The new Insider build of Windows 10 ships with new icons for built-in applications such as Calculator, Mail and Calendar on top of that.
Microsoft created a before and after animated GIF that you find below.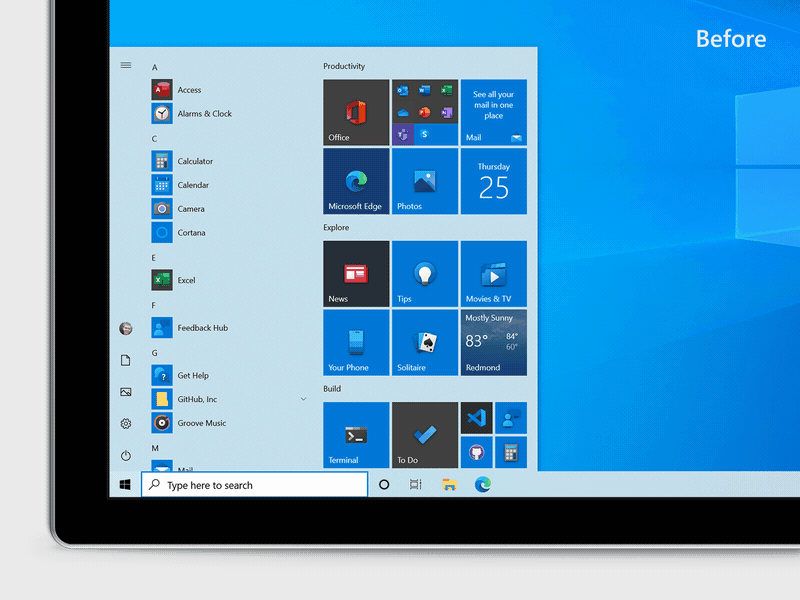 You can also check out the following two screenshots of light and dark versions of the new Start menu. Please note that it is still possible that changes will be made to the Start menu before it is released in a future version of Windows 10.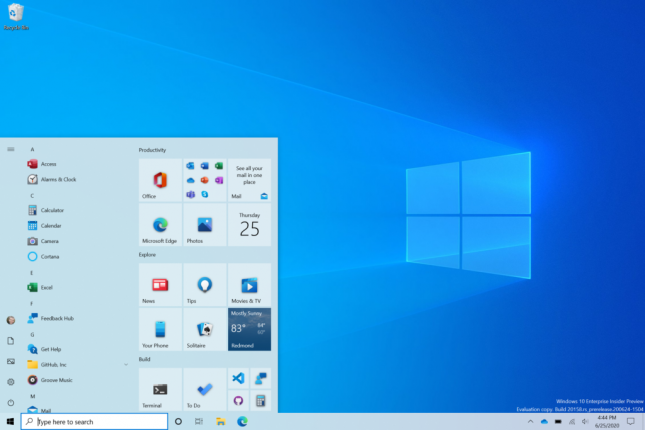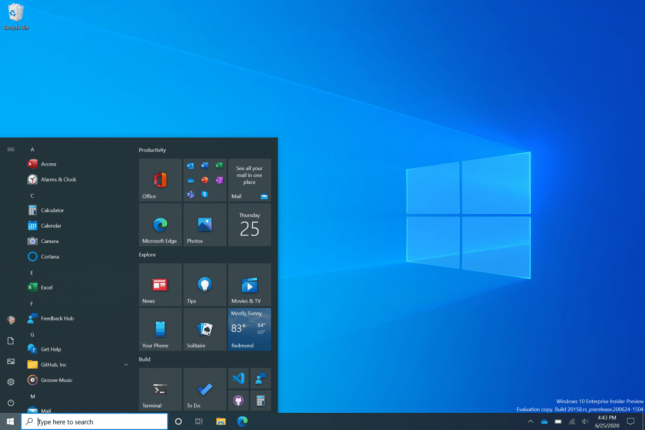 The redesigned Start menu has been optimized for the default dark and light themes of the operating system according to Microsoft. The company notes that users may add "a splash of color" to the Start menu by enabling "show accent color on the following surfaces -- Start, taskbar, and action center" under Settings > Personalization > Color to apply the accent color to the Start menu and its tiles.
Tiles continue to support updates, called Live Tiles, in the new version. Live Tiles receive regular updates, e.g. to show the latest photos, weather information, or Calendar entries automatically.
It was rumored previously that Microsoft would remove Live Tiles support but nothing of substance has been revealed in that regard. For now, Live Tiles remain a feature of the operating system.
Closing Words
The new Start Menu looks a lot cleaner than the old one thanks to the switch from multi-colored tile backgrounds to single-colored backgrounds for all tiles.
Now You: do you like the new Start Menu?