Many Windows users use the built-in web browser of the operating system to download other browsers to their system. First it was Internet Explorer, then the classic Edge, and now the new Edge that has been used for that purpose. Microsoft is still in the process of pushing its new Edge browser to Windows systems, and many systems, for instance Windows 10 systems right after installation, still come without the new version of Edge.
Windows users who want to download the new browser, for instance after the installation of Windows on a device, may notice that it is not as easy as opening the Microsoft Edge download page and clicking on the download button displayed on that page.
It works as expected if the user uses the legacy version of Microsoft Edge, classic Internet Explorer, or some other browsers such as Opera.
Users who try to download the new Microsoft Edge browser using Mozilla Firefox or Google Chrome on the other hand, get a totally different scenario. The download page displays a "Try Now" button instead of a download button.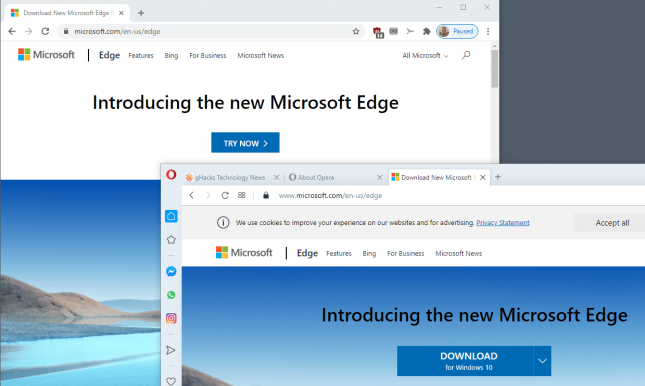 The "Try Now" button does not download a trial version of Microsoft Edge to the system. Instead, it is a link that is redirected to the classic version of Microsoft Edge on the system. If you inspect the link -- microsoft-edge:https://microsoft.com/en-us/edge?browser=Chrome -- you will immediately notice the protocol at the beginning that is used to open links in the installed Microsoft Edge web browser.
The button is only displayed for the Windows download of the new Microsoft Edge.
A click on the Try Now link displays a prompt to open the link in the classic version of Microsoft Edge -- just named Microsoft Edge to add to the confusion -- or to cancel the request. Cancelling brings you back to the download page, opening the link in the classic Edge the download page with the "real" download link.
Fun fact: if you have installed the new Edge already, the link gets opened in the new Edge.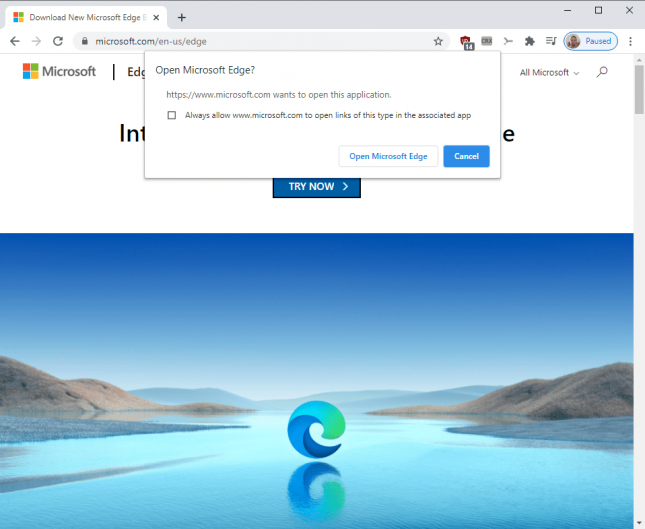 It is unclear why the change was made by Microsoft. Considering that the company wants to push the new Microsoft Edge web browser on as many devices as possible, it is puzzling as to why the change was implemented as it may deter some users from completing the download.
Users who want to download the new Microsoft Edge browser can use a supported browser to download it, or head over to the Business download page to download it manually. The business download page works fine regardless of browser that is being used to access the page.
The next version of Windows 10, Windows 10 20H2 or October 2020 Update, includes the new Edge browser by default so that it is no longer necessary to download it manually.
Now You: Why do you think the change was implemented? (via  gHacks )