Mozilla plans to release a minor update for the organization's Firefox web browser later today. Firefox 84.0.1 is a bug fix release that addresses crashes, performance and loading issues.
The new version of Firefox is pushed via the browser's automatic updating system to all devices that have it enabled. Users may check the installed version in the browser by selecting Menu > Help > About Firefox. Doing so will run a check for updates to download available ones to the local system.
Firefox 84.0 Stable was released on December 15, 2020 by Mozilla. The browser update introduced new functionality such as the ability to manage optional extension permissions on about:addons and native Apple silicon support.
Firefox 84.0.1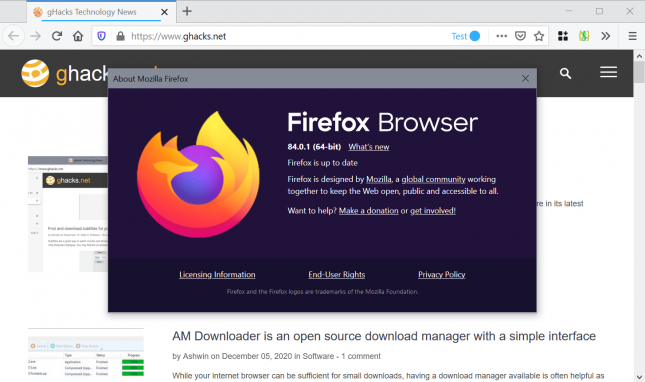 Firefox 84.0.1's release date is December 22, 2020. The update addresses four issues in previous versions of the browser.
It fixes crashes of the browser that are caused by certain third-party antivirus applications according to Mozilla. Users who have noticed Firefox crashing may install the update to resolve these issues. Third-party antivirus solutions cause issues in web browsers regularly, mostly because of their Internet protection modules.
Firefox users who use certain third-party PKCS11 modules and smartcards may have experienced loading issues and even crashes. A bug report on Mozilla's bug tracking website Bugzilla suggests that websites that use HTTPS could fail to load entirely. The issue was reported six days ago and has now been fixed in Firefox 84.0.1.
Firefox 84.0.1 addresses another performance and display related issue for Windows users. The bug report mentions flickers and artifacts on sites using Canvas elements, and performance impacts on these sites.
The fourth and final bug that is addressed in Firefox 84.0.1 fixes Unity JavaScript games on devices with Apple Silicon. These games would not load at all due to "improper detection" of the operating system version according to Mozilla.
Firefox 84.0.1 will be out later today. The next major stable release of Firefox, Firefox 85, is scheduled for a January 26, 2021 release.
Now You: have you been affected by any of the described issues?