The next stable version of the Firefox web browser supports the import of passwords from the password managers KeePass and Bitwarden, and password managers that use the same format.
Current stable versions of the Firefox web browser support two password related import and export options by default. Firefox users may import passwords from supported web browsers -- Microsoft Edge classic and Chromium-based, Internet Explorer, Chrome, and Chromium -- and export logins to an unprotected CSV file.
Some password managers support the importing of Firefox passwords already, but Firefox lacked the option to import passwords from password managers up until now.
Mozilla started to work on an import option some time ago; it has been part of the Firefox web browser since Firefox 80, released in August 2020, but it has not been enabled by default.
The import feature gets an upgrade in Firefox 85. While it won't be enabled by default in Firefox 85 either, it will support the import of passwords that use the KeePass or Bitwaren formats. To be precise, the CSV file formats that the password managers use when passwords do get exported to these formats.
Firefox users may enable the new import functionality in Firefox 85 to make use of it.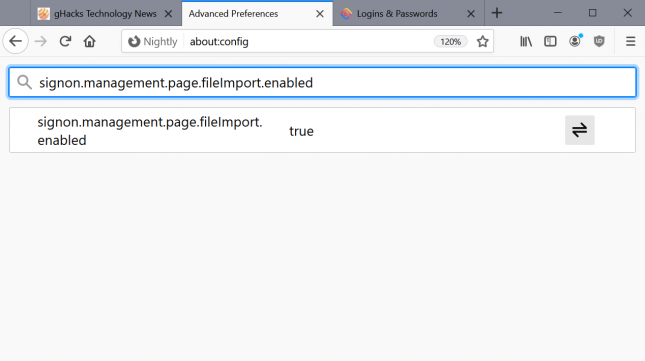 Here is how that is done:
Load about:config in the Firefox address bar.
Confirm that you will be careful.
Search for signon.management.page.fileImport.enabled.
Set the preference to TRUE using the button at the end of its line.
A value of TRUE enables the import from CSV file feature in Firefox, a value of FALSE disables it.
Firefox displays a new "Import from a File" option on about:logins after the change is made. The only file type that is supported is CSV, and users of the password managers that are supported need to export the passwords to this file type. It is not possible to import protected password databases, e.g. a KeePass kbdx file directly in Firefox.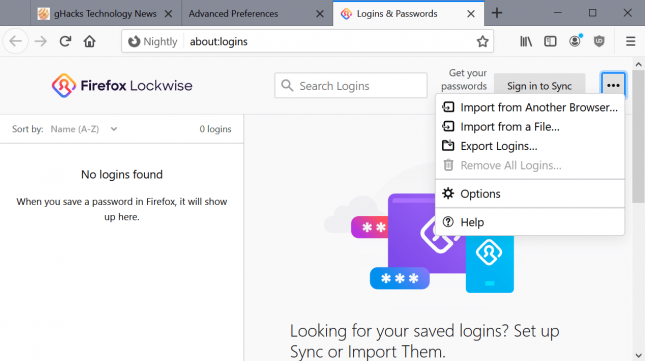 Note: CSV files are unprotected, it is important to delete these as soon as they are no longer needed, or use other protections such as fully encrypted drives.
It is unclear when the new import feature will be enabled by default in Firefox.
Firefox 85 is scheduled for a January 26, 2021 release.
Closing Words
Firefox users who want to import passwords from password managers have no direct option to do that; this changes with the release of Firefox 85 for the popular password managers KeePass and Bitwarden. It is quite possible that support for other password managers will be added in future updates. Downside to the Firefox 85 release is that the import feature itself won't be enabled in the version.
Now You: Do you prefer saving passwords in browsers, password managers, or elsewhere? (via gHacks)