Reports suggest that some of the printing issues that users experienced on Windows 10 devices after installation of the March 2021 cumulative security updates are not resolved after all.
Here is a quick recount to bring you up to speed. Microsoft released the March 2021 Patch Tuesday updates on March 9, 2021 to the public. Reports of printing issues appeared on various sites shortly thereafter. Users stated that printing actions would result in a bluescreen on affected devices.
Microsoft released an out-of-band patch on March 16, 2021. The patch was designed to address the issue, and it appeared that it did just that at first.
Reports are coming in now that the out-of-band patch may not have resolved the issue on all affected devices, and that other printing issues are experienced by some users after patch installation.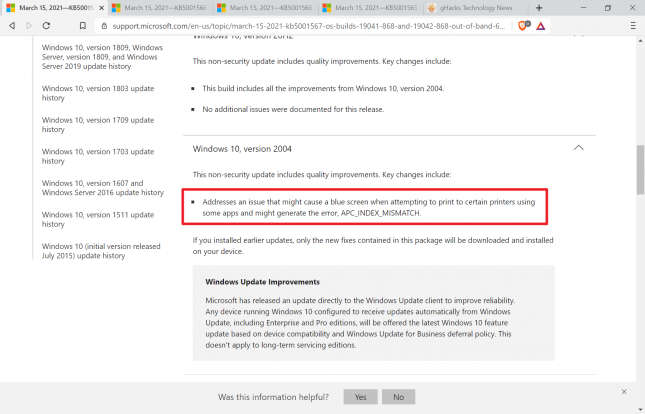 Günter Born published an article on his site in which he sums up the issues that users may experience on devices after the installation of the patch.
According to him, bluescreens may still be experienced on some devices after installation of the patch. One administrator managed to resolve the issue by uninstalling the out-of-band update before installing it again.
Others reported to Born that they experienced issues when printing images after the installation of the patch. Some users noted that no images were printed, others that parts of the printout were missing.
Other image related issues have been reported, e.g. that Office documents with images embedded in them cannot be printed out fully anymore after patch installation.
Born suggests that the issues may be caused by a bug in GDI, the Graphics Device Interface.
The order in which updates are installed may be of importance. If the out-of-band patch was installed before the security updates of March, it is possible that this is causing the issue. At least one commenter suggested that the direct installation of the out-of-band patch was causing printing issues, while nothing of the sort was experienced when the cumulative update was installed prior to the installation of the out-of-band patch.
Administrators should make sure that they install the patches in the right order to avoid any issues that could be caused by the wrong patch order.
Microsoft has not released information regarding the reports yet.
Now You: did the out-of-band patch resolve the issue on your end?