March 2021 has not been a particularly good month for some users of Microsoft's Windows 10 operating system. The company released the cumulative updates for March that fixed security issues on all supported versions of Windows. Shortly thereafter, reports emerged that printing would cause bluescreens on some devices. Users would get "APC_INDEX_MISMATCH for win32kfull.sys" bluescreen messages as printing caused Windows to crash.

Microsoft released a workaround, and then a first emergency out-of-band patch to address the issue. While the patch did do away with the bluescreen errors, users started to report other printing related issues such as incomplete printouts or blank sheet printouts, especially when printing content with graphics.
To address this issue, Microsoft released yet another patch. The update was released as an optional update via Windows Update and as a direct download on the Microsoft Update Catalog website. The update did replace the previously released emergency update.
Administrators who installed the new update reported that it did resolve the issues on their ends, but many could not install it but received the error message "We couldn't install this update , but you can try again (0x80070541)" instead when trying to do so.
Microsoft appears to have paused the rollout of the new update via Windows Update. The previous update is offered again (the one that introduces printing issues), and the new update is no longer available. Our colleagues over at Bleeping Computer and Born City came to the same conclusion.
The latest update is still listed on the Microsoft Update Catalog website as a direct download, e.g. KB5001649 for Windows 10 version 2004, 20H2 and Windows Server 2004 and 20H2.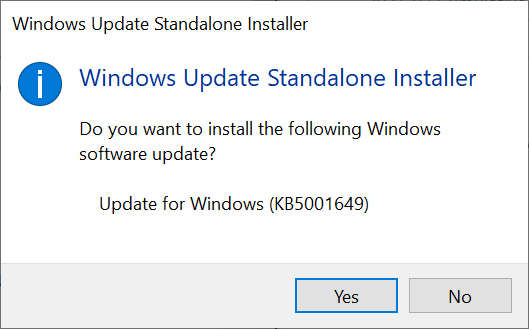 Installation of the update will fail on affected systems, however, but it installs fine on others. A quick test on two Windows 10 version 20H2 systems resulted in the successful installation of the update on these machines.
Microsoft has not acknowledged the pulling of the new update yet; the support articles don't mention the fact, and that adds a high level of uncertainty to the whole ordeal. The most likely explanation is, that Microsoft did pause the rollout of the update to analyze the installation issues that users reported to the company. It seems likely that the issue will be addressed and that an updated version of the update will be released again via Windows Update to, once again, replace the previously released first update.
Günter Born published a handy overview of the patches that Microsoft released for Windows 10:
The patches released on March 9 are the cumulative updates. The patches on March 15 and 18 are attempts to address the printing related issues that occurred after the installation of the cumulative updates.
Now You: did you experience printing related issues after the installation of the March 2021 updates?