Math Solver is a new feature of Microsoft's Edge web browser that is being tested in development versions currently. The feature, just like many others, is slowly being rolled out to the entire development population.
At least in Edge Canary, it should be possible to enable the feature if it is not enabled by default. Check Menu > More Tools to find out about that; if you see Math Solver listed, it is enabled already. If you don't, do the following to enable it:
Load edge://flags/#edge-math-solver in the browser's address bar.
Set the Math Solver in Microsoft Edge status to Enabled.
Restart the web browser.
Select Menu > More Tools > Math Solver to start the tool in the browser.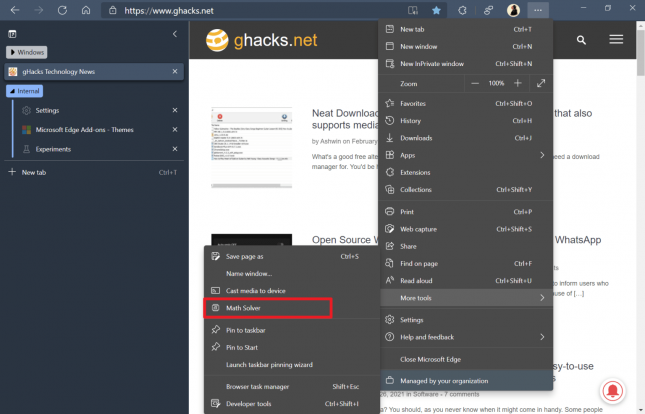 Edge loads Math Solver in a sidebar on the right and lists two main options to use the tool: by typing a math problem, or by selecting a math problem on the active webpage.
Selecting a math problem to get it solved and explained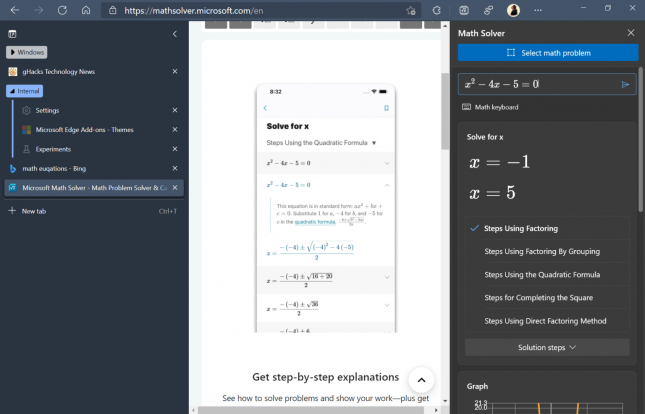 Selecting works similarly to capturing non-fullscreen screenshots. Select the option to get started, and draw a rectangle around the math problem on the active webpage. The selection option works with text but also non-text math problems, e.g. if an image displays a math problem.
Math Solver detects the problem and solves it for you in a matter of seconds. You may edit the math problem at the top of the sidebar, useful if mistakes were made during the detection process.
Options to display complete steps for solving the problem are provided, often more than one, e.g. factoring or quadratic formula.
A graph may be displayed as well. Recommended videos, linking to Khan Academy instructions, are listed on the same page as well; these explain basic concepts to solve the math problem at hand.
Typing works similarly, but it is necessary to type the entire math problem directly. A math keyboard is offered for that that can be expanded.
Closing Words
Math Solver is based on Microsoft's Math Solver application, which you can access on this webpage directly, but also download for Android or iOS. The tool works well and many students will certainly appreciate the functionality that it offers.
Whether it is necessary to integrate the tool into the Edge browser is up for debate. Another option would have been to release it as a browser extension so that users who are interested in the tool can install it in Edge. (via gHacks)
Now You: Would you use Math Solver?