Internet Download Manager (IDM) has been my preferred download manager for quite some time on Windows devices. It is easy to use, very powerful, and one of the best video and media downloaders available on the platform. Recently, I tried to download YouTube videos and discovered that IDM did not support this out of the box. The "download this video" button was not displayed on YouTube, while it did work fine on other video streaming and hosting sites.
After some digging around and testing, I found a way to download videos from YouTube using IDM. All you need is to install the official extension for your browser of choice and you are all set to download the videos from the site.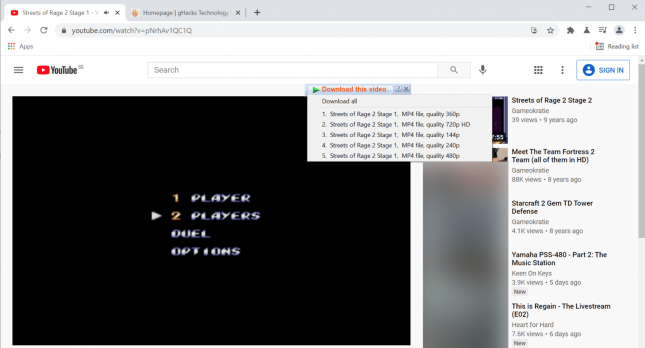 The extension may be added to many popular browsers automatically during installation. It is possible that I skipped this during installation. Since I may not be the only user of the download manager to experience that, I decided to write this guide that explains how to add the IDM Integration add-on / extension to popular browsers.
First, what you need is the link to the extension. The official IDM download page is no help, as it does not list links to the extension. Here are the links:
Most Chromium-based browsers, Vivaldi or Brave for example, support installing Chrome extensions, and you may use the Google Chrome version of the Internet Download Manager Integration Module in those browsers as well.
Once done, visit YouTube and start playback of a video. You should see the IDM button on the page once you do; if the button is not displayed, try reloading the page. On YouTube, IDM displays all available quality options and you may pick one that you favor. All that is left then is to pick the download directory, or configure IDM to download the files immediately under Settings > Downloads.
Naturally, there are other options when it comes to the downloading of YouTube videos. Not everyone wants to buy a download manager just to download videos from YouTube or other video sites. For those, youtube-dl may be an alternative, but it is a command line application. If you prefer a GUI, try one its frontends such as this one.  (via gHacks)
Now You: do you download videos? If so, which program do you use?