SoundCloud calls itself the leading social sound platform where anyone can create and share sounds on. If you are are not a creator, you can go to SoundCloud to search for, discover, and play music right on the site.
Music ranges from tracks by established pop artists like Madonna and Justin Bieber to new talent and even as niche as it can get tracks and collections like the Amiga demoscene mixtapes.
If you like music and dig deep enough, chance is you find music that you like on the site.
Download SoundCloud music
SoundCloud creators can enable downloads for their music on the site which enables anyone logged in to an account -- which is free -- to download the tracks to their local device.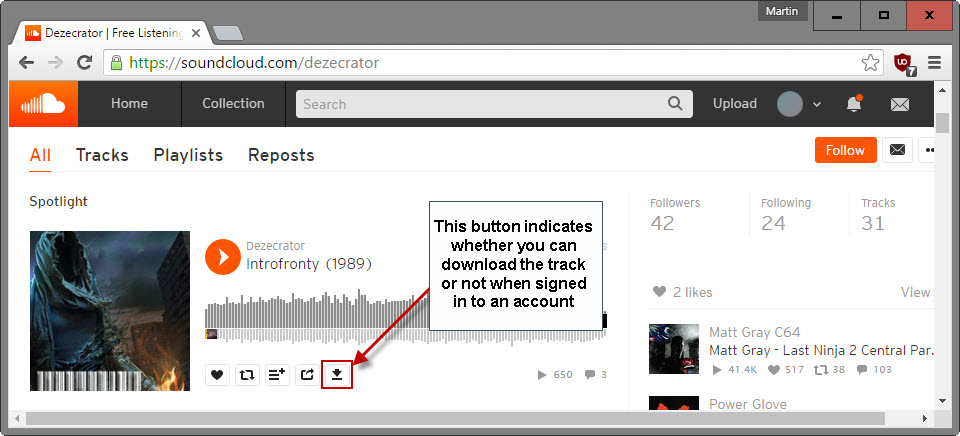 The download icon is placed next to the share icon on pages listing individual tracks and track lists.
You are asked to sign in or create an account when you click it and are not logged in already; otherwise, the audio file is downloaded to the computer or mobile device you are using right away.
This download option is only enabled if the content creator enabled it explicitly for the track. You will find many tracks on SoundCloud where this is not the case, and the following paragraphs explore options on how to download music on SoundCloud regardless of that.
Let's get started with browser-specific download options.
Google Chrome
If you are using Google Chrome (or a Chromium-based browser such as Opera or Vivaldi) you can head over to the official Chrome Web Store and download Soundcloud Downloader Free to the browser.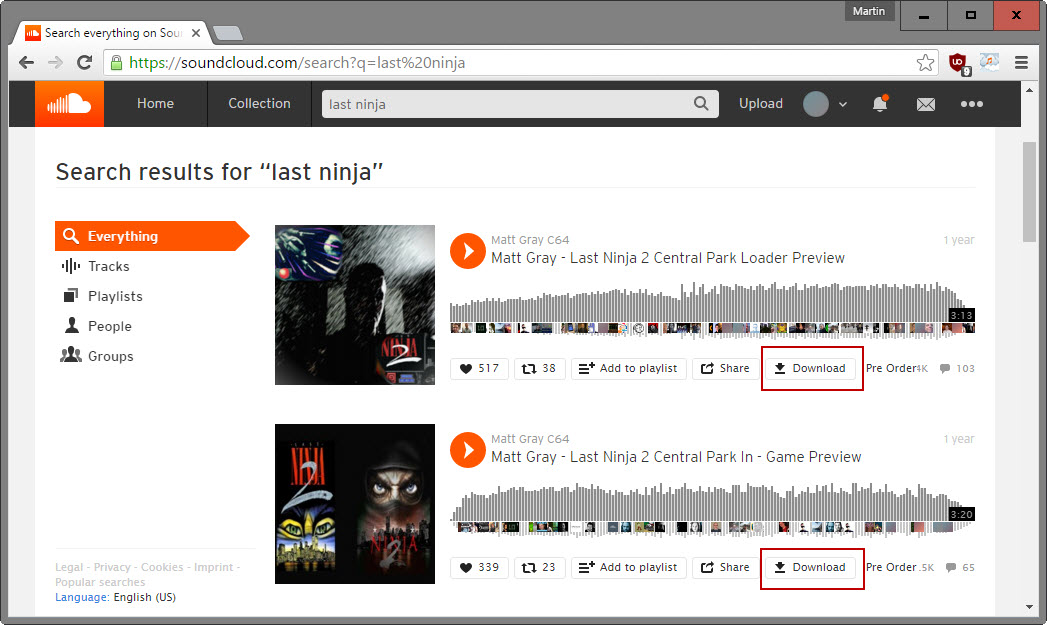 Once installed, it ads either a big download button or a smaller download icon to track listings or individual tracks on SoundCloud.
This works well on most pages on the music site but not all of them. You will notice for instance that you cannot download chart tracks on the main charts page, but need to open them individually for that instead.
Generally speaking however, it enables you to download any track you find on SoundCloud to your local system. Additionally, it does not require that you are signed in to a SoundCloud account for that.
Another interesting feature is that it adds QR codes to download icons by default when you hover the mouse over the download button or icon. You may scan the code using your mobile to download it directly to the mobile device.
Alternatives
The following extensions are also available for Chrome.
Mozilla Firefox
Firefox users (and users who run Firefox-based browsers) can install SCDL SoundCloud Downloader to add download options to the site.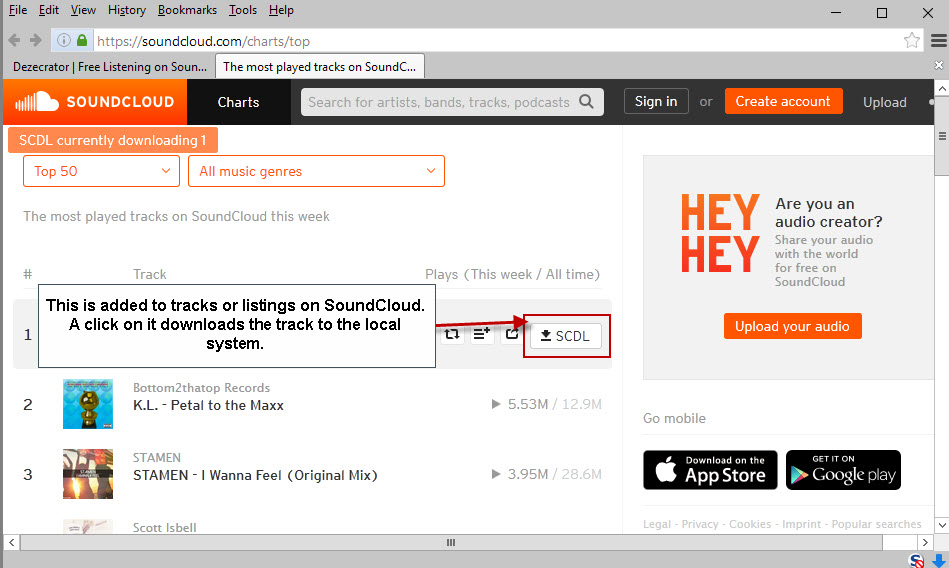 The free extension adds a SCDL button or a smaller download icon to tracks on SoundCloud which you can click or tap on to download music to your local device.
This works pretty much everywhere including charts, playlists or individual track pages.
The extension adds meta data automatically to download audio tracks including artwork, artist, genre, track name and link to the track.
Alternatives
The following alternatives are also available for Mozilla Firefox.
Browser independent options
The following services are web-based and therefore browser independent. You can use them with desktop computers and mobile devices.
Most take a SoundCloud track url that they then turn into a download link that you can click or tap on.
SoundFlush - Paste a track url, wait for the service to process it, and right-click on the download link that appears and select the save option to download the audio file to your device.
SoundTake - The service supports tracks, playlists, groups, likes and user urls, and displays download options for each track it finds on the page after it has been parsed.