Google owned YouTube published the YouTube Community Guidelines Enforcement report for the third quarter of 2018 yesterday.
The report highlights that YouTube removed 7.8 million videos, 224 million comments, and 1.6 million channels in the quarter alone based on policy violations.
The majority of videos and comments that were removed by YouTube were removed automatically. YouTube's automatic routines removed 6.3 million videos and 223 million comments from the site; the remaining 1.5 million videos and 1 million comments were reported to YouTube in one way or another.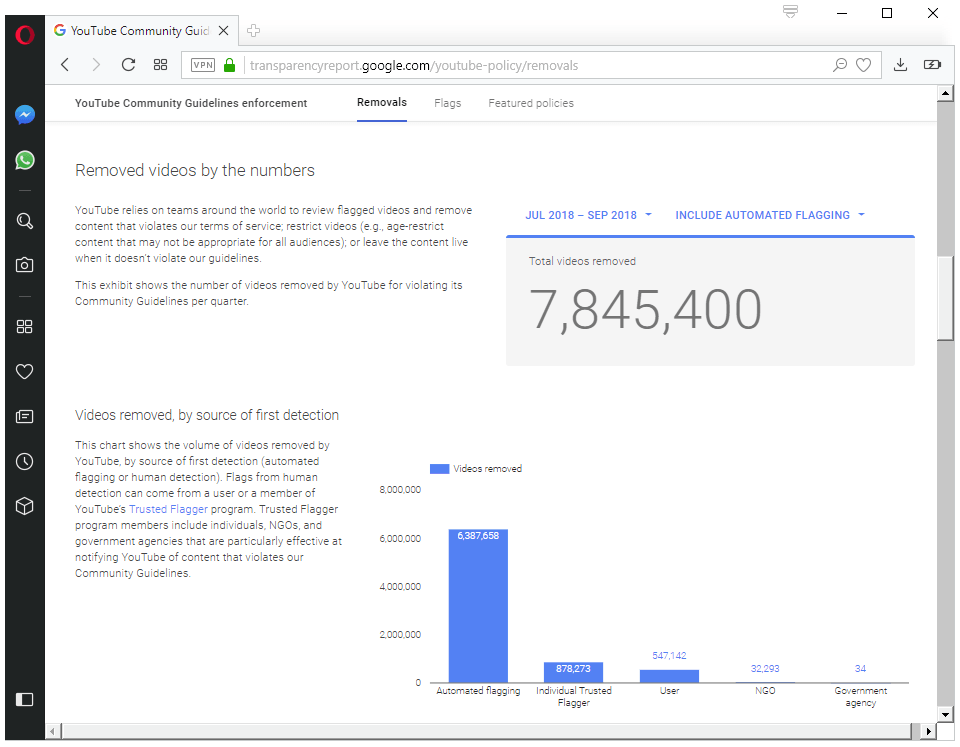 Government agencies and NGO requests led to the removal of 34,000 videos; 547,000 were removed after YouTube users reported them, and 878,000 were flagged by members of YouTube's Trusted Flagger program.
74.5% of all videos flagged by YouTube's automated system were not viewed by any user on the site, and "well over" 90% of videos uploaded in September 2018 that were removed for Violent Extremism or Child Safety had fewer than 10 views according to YouTube.
Spam is the number one reason why videos get removed; about 72% of all videos were removed because they were flagged as misleading, scam, or spam. Child Safety, nudity or sexual, and violent or graphic make up 23% of reasons.
YouTube channels get strikes when they violate against policies. YouTube terminates channels if they accrue three Community Guidelines strikes in 90 days or have a "single case of severe abuse", or is "determined to be wholly dedicated to violating" guidelines.
All videos published by a terminated channel are removed from YouTube. YouTube removed 1.6 million channels in the third quarter of 2018 and that led to the removal of 50.2 million videos published by these channels in the quarter.
Spam is the number one reason for the removal; 79% of all channels are removed because they are flagged as spam, misleading, or scams. Nudity or sexual violations follow with 12.6% of all removals.
YouTube removed 224 million comments in the third quarter of 2018. 99.5% of all comments were removed automatically, only 0.5% after humans flagged the comments.
The countries with the most human flagging contributions are India, United States, Brazil, United Kingdom and Mexico.
YouTube has been under heavy pressure all over the world to identify and remove certain types of content quickly. Google did not reveal how many false positives its systems detected.
Now You: What is your take on this?